Watch: Paul Pelosi Attack Video Released by Police
San Francisco law enforcement officials on Friday released police body-camera footage of the October attack on Paul Pelosi, the husband of Democratic Representative Nancy Pelosi of California.
Pelosi, 82, was struck by a hammer during the attack, which resulted in him requiring hospitalization for a fractured skull and other injuries.
David DePape, 42, was arrested for the assault and has denied the allegations. In late December, DePape pleaded not guilty to charges of attempted murder, first-degree residential burglary, elder abuse, assault with a deadly weapon, false imprisonment and threatening a family member of a public official.
Authorities have said the assailant broke into the Pelosi home located in the Pacific Heights neighborhood of San Francisco at around 2:00 a.m. on October 28. The assailant reportedly woke up Paul Pelosi and asked, "Where's Nancy?"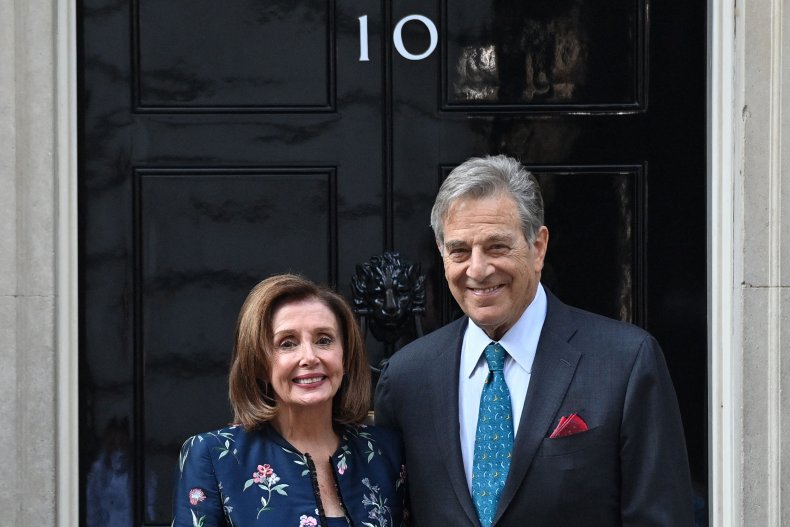 DePape allegedly later told an investigator about breaking into the house, as well as plans of holding Nancy Pelosi hostage. At the time, Nancy Pelosi was the Speaker of the House of Representatives.
San Francisco Superior Court Judge Stephen Murphy ordered the public release of the body camera footage as well as other audio and video recordings of the attack. DePape's attorney had argued against the release of the recordings, stating potential jurors could become prejudiced against his client if they viewed the material.
Other material released on Friday was Paul Pelosi's 911 call from October 28 and video from surveillance cameras. One of the surveillance videos shows the suspect walking up to the door at Pelosi's home before fetching to retrieve a large backpack and two other bags. The suspect can then be seen pulling out a hammer and putting on gloves before smashing the glass door open.
Fox News posted the video of the suspect breaking into the house online.
DePape is being held without bail pending a trial. A trial date is expected to be set in February.
Last week, Nancy Pelosi gave an update on her husband's health during an interview with CNN.
"Anyone who's had a head injury knows that you have to be very careful," she said. "You have to be careful about movement. You have to be careful about light. You have to be careful about sound. And it just takes a while. You get very tired, but, you know, without going so further into it, but it takes, it will take probably another three or four months, according to the doctors, for him to be really himself."
A representative for Nancy Pelosi declined to comment further.
Update 01/27/22 2:10 p.m. ET: This story has been updated to include more information.