Video: Pope Francis Really, Really Doesn't Want Anyone to Kiss His Papal Ring
Pope Francis was adamant in not wanting the Catholic faithful who approached him after mass on Monday to kiss his papal ring
Footage of the post-service meet-and-greet at the Loreto basilica, near Ancona, Italy, showed the pontiff forcefully pull his hand away each time someone made a move toward the ring that he wears on his right hand.
Catholic bishops wear rings to symbolize their "marriage" to their diocese. As bishop of Rome, the papal ring, also known as the Ring of the Fisherman or the Piscatory Ring, is a symbol of the pope's office. Each pope gets his own unique ring, which is destroyed on his death.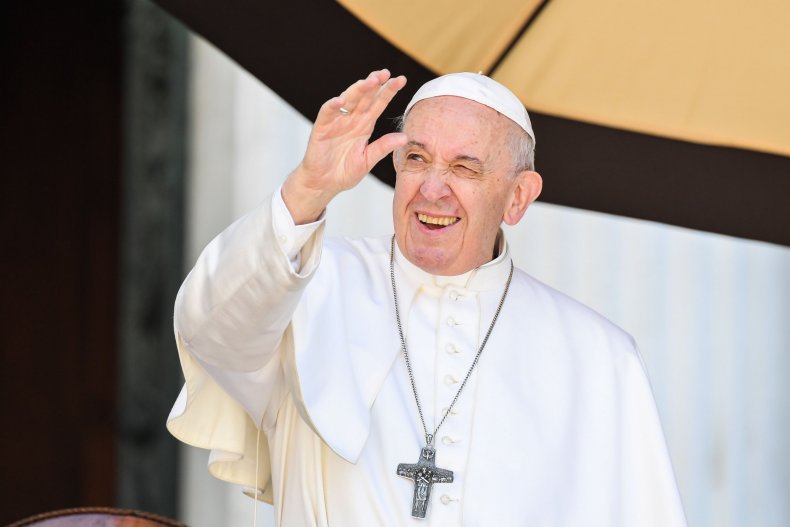 To kiss the Ring of the Fisherman is an expression of loyalty to him as the successor of St. Peter, who, a fisherman by trade, was traditionally considered the first pope.
There has been much speculation over the footage, which appeared on the Italian news site TGCOM 24.
Rome correspondent for the National Catholic Register, Edward Pentin, tweeted that the pope's action "is something he has done quite regularly during his pontificate though not quite so insistently as today."
David Gibson, director of Fordham's Center on Religion and Culture, tweeted: "John Paul II and Benedict XVI frequently did the same thing, raising petitioners up rather than letting them kiss the ring."
Priest Kevin Cusick tweeted: "It's a grace for the faithful to be able to show respect for the office of the Pope by kissing the papal ring. It's not about the Pope, it's about the faithful."
Another tweeted: "I don't get why thisPope behaves the way he does. In some places, it is their custom to kiss the pope's ring or the priests' hand. He should have known that instead of disrespecting the people like this."
Francis has previously appeared uncomfortable with such traditional gestures of reverence. He seems more at ease with personal expressions of loyalty to him rather than to his office, Lifesite News reported.
A source close to the Vatican told Lifesite: "He doesn't get that it's not about him. It's about the office." Another source said the pope was more receptive to hugs, selfies and "expressions of personal esteem."
Shortly after he became pope, he tried to pry apart the hands of an altar boy he thought had joined his hands too tightly in a pious pose, telling the boy, "It seems like they're stuck."
Newsweek contacted the Holy See's press office for comment.
The first pope to come from Argentina, Francis is known for shunning the traditional trappings of his office. When he became pope in 2013, he shunned a grand apartment in the penthouse of the Vatican's Apostolic Palace in favor of a modest two-bedroom residence, the BBC reported.