Video: Florida Pro-Trump Protesters Chant 'Fake News' in Chaotic MSNBC Live Show
A live broadcast from the Florida hub of a tightly fought midterm election battle descended into chaos when protesters chanted slogans so loudly that they drowned out the presenter.
MSNBC's Ari Melber was hosting the show from Broward County, where officials are working overtime to recount ballots to determine the race for Florida's senator and governor after the vote count fell within a margin of 0.5 percent.
Governor Rick Scott and Senator Bill Nelson have filed lawsuits in the Florida Senate race, with Scott asking for a probe into the election operations in Broward and Palm Beach counties.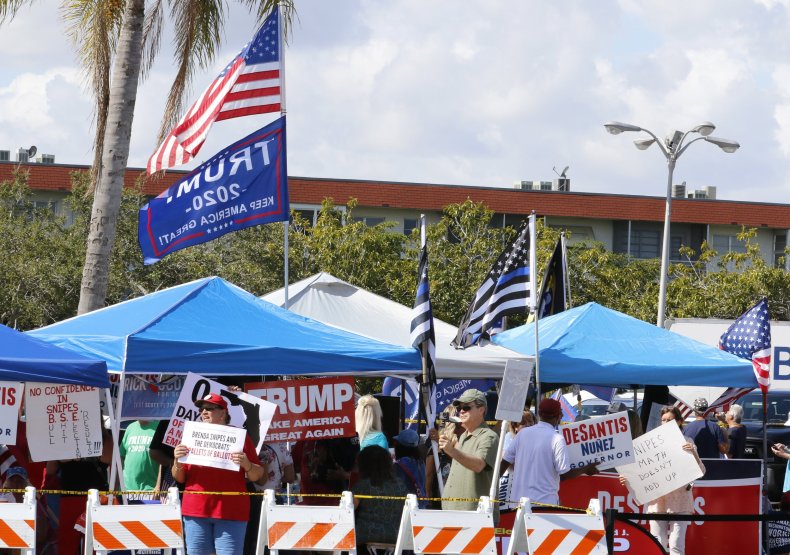 On Monday's show, Melber was discussing the recount with his guests but had to compete with a chorus from protesters that grew louder during the broadcast.
They shouted "Stop the Steal!" as well as "Trump!, Trump! Trump!" Then during a discussion over claims of voter fraud, protesters started chanting "All the votes count!"
The cacophony grew as Melber spoke to Democrat Congressman Ted Deutch about whether U.S. President Donald Trump was lying about voter fraud in the state. The protesters chanted "fake news" which was clearly audible on air.
Trump has said that Florida's election recounts should be called in favor of Republicans as "an honest vote count is no longer possible".
But Deutch went on to say that Trump had lied about voter fraud and took a swipe at the Florida governor's claims of skullduggery as well.
"The way that Rick Scott has behaved here, the way that he has tried to cast doubt on this whole process, is so dangerous." Deutch added that Scott had gone too far in trying to get the voting counting machines seized.
"I think that his behavior has really been terrible," Deutch said.
Florida Secretary of State Ken Detzner said all 67 Florida counties must complete machine recounts by 3 p.m. Thursday. If there is a difference of 0.25 percent or less between the candidates, it will then go to a hand recount that must conclude by 18 November, local media report.