Watch as Puppy Goes From 'Cute to Chaos' in Just 0.2 Seconds
A golden retriever puppy going from "cute to chaos" under half-a-second has the internet in hysterics.
In the clip shared by TikTok user Maria (@mariaelekessings), with more than 2 million views, her puppy can be seen lying on the sofa, playfully patting her arm.
However, the tiny golden gets a little too rowdy. He releases a powerful bark, the force of which launches him off the sofa.
After doing an accidental backflip, the pup lands safely on the rug, while Maria bursts into laughter.
"Are you OK?" she asks, mid-giggle, while the confused dog tries to find its bearings.
"Cute to chaos in .2 seconds," Maria wrote alongside the footage, which has received more than 470,000 likes.
How to Stop Your Puppy From Getting Injured During Playtime
Whether escaping from their playpen or accidentally flooding your house, puppies can be mischievous little devils.
Still, Leigh Siegfried—CEO and founder of Opportunity Barks—told Newsweek that it's rare for puppies to injure themselves while wreaking havoc.
"Accidents will happen," she said. "It's not uncommon for a dog to roll, fall, or hop off a taller object, and just roll with it."
However, if your pet looks distressed, it's your job as owner to make them feel safe again.
"When a dog has a moment and appears shaken or is vocalizing, get low and close to your dog and pet them and reassure them," Siegfried said.
"You are not 'reinforcing' fear by doing this. You are reassuring a dog who is having a normal life experience and providing them with social support."
It is normal for puppies to stay close to their owners at first, but once they adapt to their new surroundings, they will want to explore on their own.
"Nobody wants to be a helicopter dog parent," Siegfried said. "But it's helpful for your pup if you reassure them as they need it, with the bumps along the learning curve of puppyhood."
If you're concerned about your pup injuring itself while playing, Siegfried recommends:
Joining them on the ground to play.
Keeping items such as tug-ropes level with your shoulders to prevent sudden, jerky movements.
If they're playing with another dog, aiming for size-appropriate buddies while your pup builds their confidence (and to prevent them from getting squished).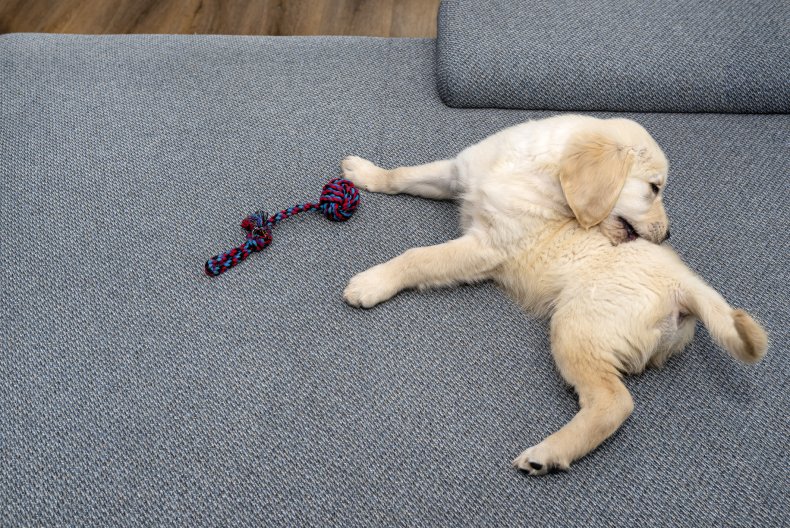 'He Back-Fired'
TikTok users couldn't get enough of the excitable pup, with user georgie345 calling the clip "hilarious."
"That was a powerful bark my goodness," wrote Bella, while Nicola posted: "A bark so strong it threw him off the chair."
"Sonic boom!!!" commented WincestIsBest, while Shelby Mandrell wrote: "He back fired."
"Damn idk if I've ever seen bark recoil," commented @_letrusscook_ and Joana Koz posted: "It gets funnier the longer I watch."
"IM CRYING THE WAY HE FELL DOWN," commented Cali, while Luci wrote: "Puppies are so silly! gotta love them all."
Newsweek reached out to @mariaelekessings for comment.
Do you have funny and adorable videos or pictures of your pet you want to share? We want to see the best ones! Send them in to life@newsweek.com and they could appear on our site.