FanDuel Co-Founder Tom Griffiths: Disruptive Companies Always Face Legal Challenges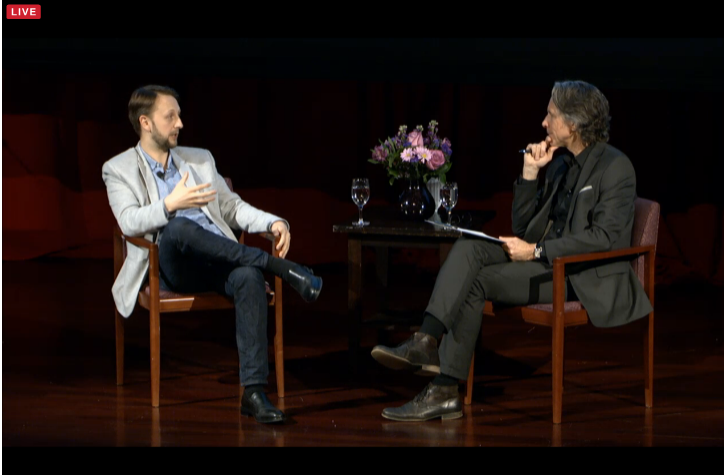 Is it a gambling site or, as it claims to be, a skill game? FanDuel, and its competitor, DraftKings, both took the nerdy parlor game of fantasy sports to the majors and gave huge payouts for daily picks in football, baseball and basketball. FanDuel's Chief Product Officer Tom Griffiths sat down to speak to Newsweek 's Kevin Maney on Monday night as part of the New York University's Founders Unplugged series where he walked through the company's creation.
Daily fantasy games are wildly popular and lucrative. FanDuel says more than a million people play daily. FanDuel has a deal with the NBA, DraftKings signed one with the NFL Players Association. Both buy huge amounts of ads on sports programs and have made big buys in stadiums for lounges and banners. The only thing that seems to be holding them back: whether what they're doing is legal or fair.
Griffiths was in Edinburgh, Scotland, when he met his eventual cofounders. They were into the web, and into starting companies, so they tried their hand. Their first effort, Groopit, a mobile social meet-up tool, didn't work. Griffiths says he learned a lot from the experience, namely, that you need to move fast. "If you aren't embarrassed about your first effort, you've waited too long," he says, quoting LinkedIn's Reid Hoffman.
His second move, HubDub, a prediction market, also didn't fly. Griffiths and company spent more time on the business model this time, but it also didn't take off, partially he says, because it was 2008 and Lehman Brothers had just collapsed.
But his team was unbowed. On a pivotal SXSW trip, they had an epiphany: a pivot to fantasy sports. "This was a very disciplined process where we came up with a business that would work," Griffiths says.
As the team focused on their new effort, they saw some glaring problems with fantasy sports. It was too easy to lose attention. If you fall behind or have key injuries on your team, you can fall behind quickly and drop out of your league. Daily games don't have that problem.
The decision to make it a pay game was motivated by money; Griffiths wanted to get big returns for his investors. Payments also wouldn't leave them dependent on ads. It also seemed to make the game more interesting.
Griffiths was aware of a a 2006 law banning all Internet gambling, but it left an exception for fantasy sports sites, which back then were small. FanDuel and DraftKings changed that. The former arrived in 2009, saying its game was a skill and therefore couldn't be regulated like gambling.
It's an argument that courts and attorney generals have sometimes accepted, but the claim came under more scrutiny when it news organizations reported how a DraftKings employee won $350,000 on FanDuel in one week. Both sites eventually banned their employees from participating on either site. Since then, Hawaii, New York, Illinois, Texas, and Nevada have all tried to stop the site from operating.
Although both websites denied it was possible, employees of one company that had access to their sites trading numbers theoretically have a huge advantage on the other platform. The news was enough for the New York Attorney General Eric T. Schneiderman to launch an inquiry and seemed to start the backlash against daily fantasy sites.
Now, however, Griffiths thinks the company's legal problems are behind them. "There's nearly 30 states with bills or legislation introduced that clarify the situation," he says. He speaks glowingly of the a law signed by Virginia's governor which makes daily fantasy sports legal, and says Indiana and Massachusetts will soon follow suit. "Certain parts of the legal case in New York have been settled," he says, "...and there's the possibility to produce some legislation."
"If you're a disruptive company," Griffiths adds, "…you will eventually run into some sort of regulation issues."
WATCH THE ENTIRE CONVERSATION HERE.