Watch Randall Go to Therapy in 'This Is Us' Episode 15 Sneak Peek
Anxiety be damned! Randall Pearson is taking steps to get his mental health in check on the upcoming episode of This Is Us.
It seems as though Sterling K. Brown's character has carried the weight of the world on his shoulders since the NBC drama series debuted. So far in Season 4, he's dealt with his mother's diagnosis of mild cognitive impairment to worry about—and Rebecca's (Mandy Moore) orders to keep her ailment quiet—and that scary run-in with a home intruder on top of his new role as a Philadelphia councilman. And Randall is definitely cracking under all the pressure.
But help is on the way.
In a sneak peek for Episode 15, titled, "Clouds," Randall finally addresses his crippling anxiety by going to see a therapist, and he hints at his family being the brunt cause of his problems. "If it wasn't for me, this whole family would have fallen apart," Randall confesses.
Randall looks perplexed when the therapists responds by asking, "Would they?"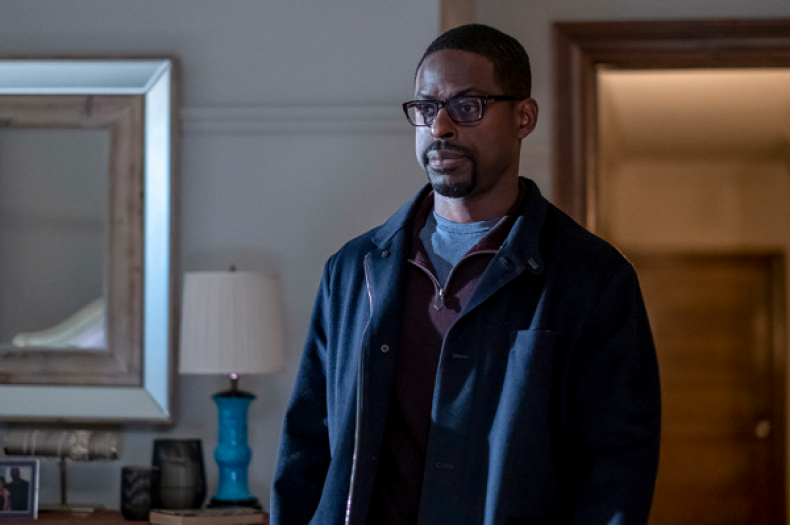 According to Brown, Randall's therapy sessions will unravel some aspects of his psyche that aren't too far off from how his late father Jack (Milo Ventimiglia) felt. While Randall doesn't have the mental wounds of the Vietnam War that plagued Jack's mind, Brown told TVLine his character's journey may be heading down a similar road.
"Jack was a pretty self-reliant guy, very quiet, close-to-the-vest, and he probably didn't share as much with his wife as Randall shares with his," Brown told the site in an interview released Monday. "I'm heading down a path which is similar to the path of my father's."
Randall's awareness of that better path is what ultimately persuades him to take a step in a direction different from his father by seeking professional help. "While I love my father, I know that there's a better path," he continued.
"So after that trip to the cabin, there is a decision to ultimately go to therapy."
Of course, Randall won't be thrilled with his decision. When his therapist begins questioning him during his first session, he'll give her some answers but "with reluctance." It's a good first step nonetheless.
Meanwhile, Randall's brother Kevin (Justin Hartley) will come to terms with his own new crushing reality now in light of finding out about his mother's sickness. The Episode 15 synopsis teased the mother and son will enjoy some quality time together when he decides to spend the day with her.
Meanwhile, over at the Damon household, Toby (Chris Sullivan) will make a "grand gesture" toward his wife Kate (Chrissy Metz).
This Is Us airs on NBC on Tuesdays at 9 p.m. ET.
Viewers can live stream the episode on NBC's website or app. Those with pay-for services like Hulu + Live and YouTube TV can also tune into This Is Us on those platforms.