Watch: Rehabilitated Siberian Tiger Now Has Two Cubs in the Wild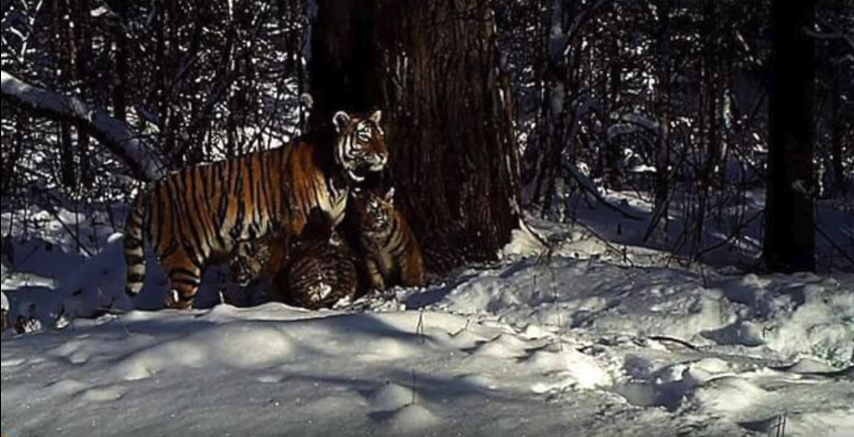 On the surface, it's not such an unusual sight: a mother tiger with her two young cubs. But in this case, the Siberian tiger taking care of her offspring was orphaned when she was just a cub, rehabilitated by humans and then released back into the wild. The International Fund for Animal Welfare (IFAW) says Zolushka, whose name in Russian translates to "Cinderella," is the first rehabilitated Siberian, or Amur, tiger to give birth in the wild.
"We are overjoyed with the news of Zolushka becoming a mother to two healthy cubs," Masha Vorontsova, IFAW Russia director, says in the organization's press release. "This is what we've all been hoping for since her release in 2013. This shows that she has fully adapted to a life in the wild and is able to successfully hunt, breed and now raise a new generation of Amur tigers."
With only about 500 of this subspecies of tiger living in the wild, two cubs are also a significant addition to the population. The IFAW posted a video to YouTube Thursday with footage of Zolushka and her cubs.
Zolushka was four months old and starving when she was found in February 2012, her mother most likely a victim of poachers. The tip of her tail had to be removed due to frostbite, but she was otherwise rehabilitated and learned to hunt so she would be ready to return to the wild. In May 2013, she was released in the Bastak Nature Reserve in the Russian Far East. Conservationists continued monitoring her to make sure she was acclimating to the new environment.
The video of Zolushka's release into the wild, posted in June 2013, has since garnered more than 8.5 million views.
Apparently, a wild male arrived in the area where Zolushka had been released, which by then had been empty of tigers for about four decades. On Wednesday, Ivan Podkolnokov, the Bastak reserve inspector responsible for monitoring Zolushka, brought back images of the tiger with her cubs as evidence that she had become a mother.
"This is a watershed event not just for Zolushka but for the entire population of Amur tigers," Dale Miquelle, director of Wildlife Conservation Society Russia, says in a press release from that organization. "These births mark the return of tigers to habitat that had been lost, and the beginnings of a recovery and expansion of the last remaining Amur tiger population into habitat lost years ago."