President Donald Trump's former adviser Roger Stone was booed by a crowd on Friday, which also chanted "lock him up" after he said he was "falsely accused." The latest indictment from special counsel Robert Mueller charged Stone with obstruction, witness tampering and false statements related to the 2016 presidential campaign.
As Stone stepped out of a federal court in Fort Lauderdale, Florida, the boos began.
"Thank you, thank you," Stone said in response.
"As I have always said, the only thing worse than being talked about is not being talked about," Stone stated. "After a two-year inquisition, the charges today relate in no way to Russian collusion, WikiLeaks collaboration or any other illegal acting connection with the 2016 campaign."
Stone concluded: "I am falsely accused of making false statements during my testimony to the House Intelligence Committee."
That remark prompted the "lock him up" chants.
"That is incorrect," Stone said. "Any error I made in my testimony would be both immaterial and without intent."
Friday's "lock him up" chants were reminiscent of the "lock her up" chants that Trump supporters frequently uttered during the 2016 campaign, referring to various alleged crimes by his election opponent Hillary Clinton.
Mueller's seven-count indictment accused Stone of lying about his dealings regarding a WikiLeaks release of hacked emails from the Clinton campaign during the 2016 presidential election.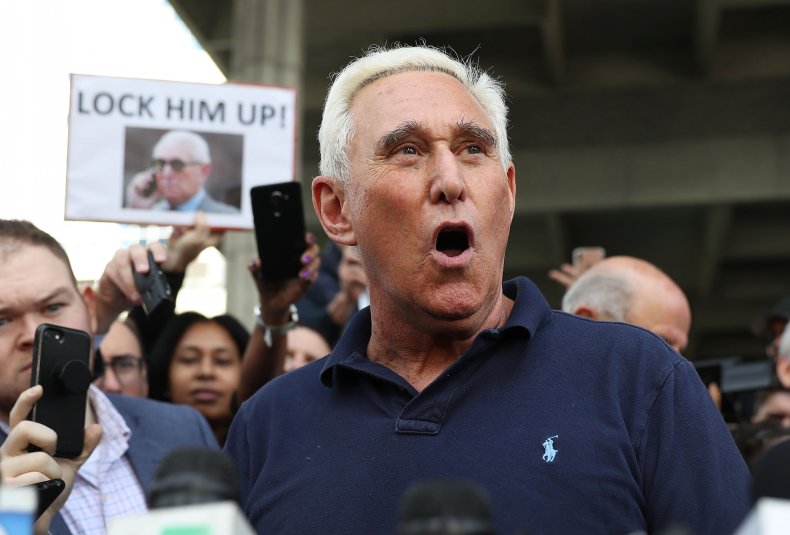 Stone, who was arrested in the early-morning hours at his Fort Lauderdale home, somehow found time Friday to call into Alex Jones's Infowars show to discuss his arrest. Stone told Jones that investigators "could have just contacted my attorneys," and insisted he had been willing to turn himself in.
"It was meant to intimidate me, but I am not intimidated," Stone said, adding, "There is no circumstance under which I would plead guilty to these charges" or "bear false witness against the president."
Stone also said the indictment was "politically motivated" and that there was "no collusion," a phrase commonly used by Trump. "They would like me to plead guilty to charges that are completely bogus," Stone told Jones.
"As long as I have a breath in my body and a dollar to pay a lawyer, I'm going to fight," Stone said."
When Jones asked what his direct message to Trump was, Stone reiterated that there is no collusion and said, "I think I'm being persecuted for being a 40-year friend and supporter of his."
Stone has for months, as Mueller looked into his ties with the Trump campaign, claimed he is innocent.