Watch: Russia Launches 'Satan 2' Missile As Moscow Denies Trump Told Putin U.S. Would 'Win' Arms Race
Russia tested its new intercontinental ballistic missile (ICBM) on Friday as tensions continued to soar between Moscow and the West.
The Russian Ministry of Defense released a video showing the RS-28 Sarmat—dubbed "Satan 2" by NATO—being launched from the Plesetsk Cosmodrome in Mirny, Arkhangelsk Oblast. The RS-28 Sarmat is a super-heavy, liquid-fueled ICBM capable of carrying multiple, independently targetable thermonuclear warheads and has been said capable of evading state-of-the-art defenses and destroying an area the size of Texas.
Related: Russia could unleash 'Satan 2' nuclear missile before next U.S. presidential election: Report
Friday's ejection test, previously described as a "cold eject," used compressed gas to propel the missile before its engine thrust kicked in. In a statement, Russia said the launch was a success.
"The pre-flight preparations were carried out according to the plan. During the test, the ICBM proved its specifications within pre-flight preparations and initial stage of the flight. The Strategic Missile Forces checked scheme and constructive, as well as technological solutions implemented in the missile complex equipped with the ICBM," the ministry said.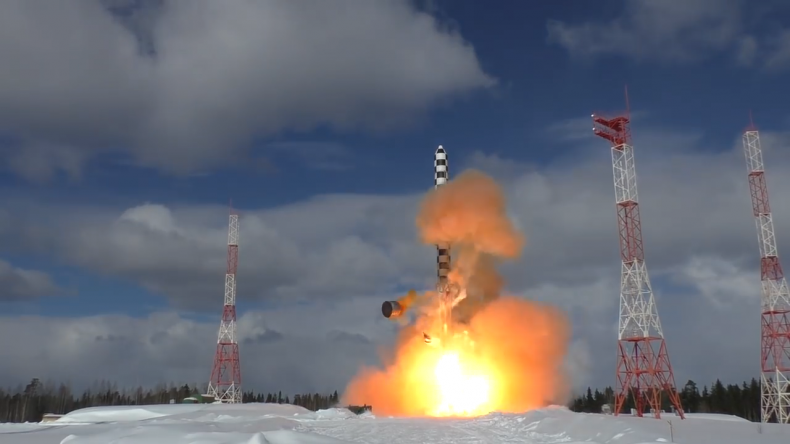 The test came as the Kremlin denied a U.S. report claiming President Donald Trump challenged his Russian counterpart during their telephone call earlier this month. While congratulating President Vladimir Putin on his March 18 election victory last week, Trump warned, "If you want to have an arms race, we can do that, but I'll win," NBC News reported Thursday, citing two unnamed White House officials.
"No, such a phrase was not spoken during the talk, and these reports have nothing to do with reality," Kremlin spokesman Dmitry Peskov told reporters Friday, according to the state-run Tass news agency.
Shortly after last week's call, Trump defended his decision to congratulate Putin against critics who have accused the longtime Russian leader of undermining democracy at home and abroad. Trump argued that "getting along with Russia and others is a good thing, not a bad thing" because "they can help solve problems with North Korea, Syria, Ukraine, ISIS, Iran and even the coming arms race."
The Kremlin said in a statement at the time that the two leaders discussed crises in Syria and Ukraine and "spoke in favor of developing practical cooperation in various areas, including efforts to ensure strategic stability and combat international terrorism, with particular emphasis on the importance of coordinated efforts to curb an arms race."
Relations between Washington and Moscow, long at odds over their global foreign policy visions, fell out significantly after Russia annexed the Crimean Peninsula during Ukraine's 2014 political uprising, which the Kremlin argued would threaten the ethnic Russian population there. U.S.-led NATO viewed this as a provocation and assembled new forces along Russia's borders, leading to an increase in military action from both sides in the crisis.
As relations continued to deteriorate over allegations that Russia interfered in the 2016 U.S. presidential race and other elections around the world, Putin has continued to modernize his military. He unveiled the RS-28 Sarmat and other powerful, advanced weapons during his March 1 state of the nation speech. Days later, a new row emerged after former Soviet spy and double agent Sergei Skripal and his daughter were poisoned by an alleged Russian nerve agent in Salisbury, England.
A number of Western countries, their allies and NATO have blamed Moscow for the attempted assassination and have collectively expelled over a 100 diplomats. Russia has responded by matching the U.S.'s decision to kick out 60 diplomats and closing a consulate general, and has expelled U.K. diplomats as well.
Russia has also threatened to convene a session of the Organisation for the Prohibition of Chemical Weapons in response to what it says is a failure by the U.K. and other Western nations to comply with its own investigation into the incident.