Footage obtained Friday from the Russian Ministry of Defense purports to show Russian howitzers blowing up Ukrainian targets in and around a grove of trees in a field.
The MoD said: "Combat operation of Western MD's [Military District] Msta-S self-propelled howitzer crews the during fire missions to destroy AFU [Armed Forces of Ukraine] camouflaged fortified positions within the special military operation.
"Orlan-10 unmanned aerial vehicle crews uncovered camouflaged fortified positions near a forest belt.
"After receiving target coordinates and reconnaissance data, a battery of 152mm Msta-S self-propelled guns struck."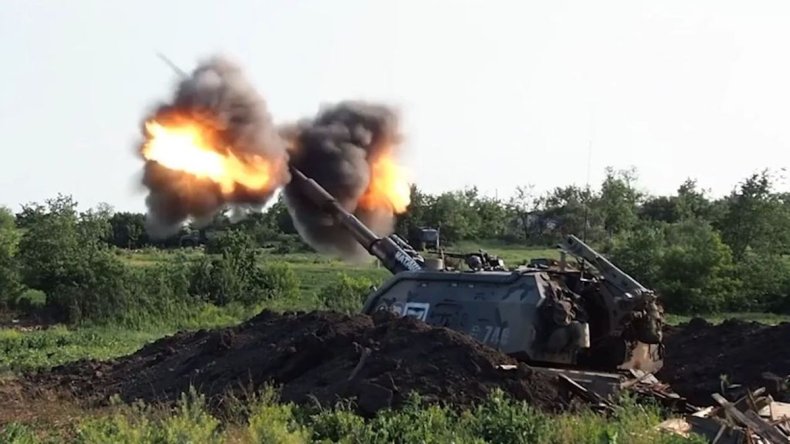 The Russian statement did not specify where in Ukraine the strike took place.
The 2S19 Msta is a 152.4mm self-propelled howitzer designed by the Soviet Union. It entered service in 1989 and its operators also include the Ukrainian military.
The Orlan-10 is a reconnaissance, unmanned aerial vehicle developed by the Special Technology Center in St. Petersburg for the Russian Armed Forces. It was introduced in 2011.
Zenger News contacted Russian and Ukrainian officials for comment but had not received a reply at the time of writing.
Russia invaded Ukraine on February 24 in what the Kremlin is calling a "special military operation" to "liberate the Donbas." Friday marks the 114th day of the invasion.
In a briefing, the Russian MoD said that between February 24 and June 16, "204 Ukrainian airplanes and 131 helicopters, 1,218 unmanned aerial vehicles, 340 anti-aircraft missile systems, 3,569 tanks and other armored combat vehicles, 526 multiple launch rocket systems, 1,968 field artillery and mortars, as well as 3,647 units of special military vehicles were destroyed."
Meanwhile, the General Staff of the Armed Forces of Ukraine reported that between February 24 and June 16, Russia had lost about 32,950 personnel, 1,449 tanks, 3,545 armored fighting vehicles, 729 artillery pieces, 233 multiple launch rocket systems, 97 air defense systems, 213 warplanes, 179 helicopters, 591 tactical drones, 129 cruise missiles, 13 warships, 2,494 motor vehicles and fuel tankers, and 55 pieces of special equipment.
Washington has told China it risks ending up on the "wrong side of history" following Chinese President Xi Jinping's assurances given to Russian President Vladimir Putin that Beijing supports Russian "sovereignty."
Thousands of civilians remain trapped in the key eastern Ukrainian city of Severodonetsk, where the water supply is reported to be dwindling. Hundreds of civilians are taking shelter in the bunkers beneath the city's Azot chemical plant.
Luhansk Oblast governor Serhiy Haidai said earlier this week that all three bridges into Severodonetsk had been destroyed, making delivering supplies and evacuating civilians impossible.
President Joe Biden has promised Kyiv another $1 billion in security assistance and weapons, and General Mark Milley, who chairs the Joint Chiefs of Staff, says Russia has lost around 20 to 30 percent of its armored forces during the ongoing invasion.
Former Russian president and staunch Vladimir Putin ally Dmitry Medvedev derided French, German and Italian leaders Thursday for their visit to the Ukrainian capital Kyiv as "fans of frogs, liverwurst and spaghetti."
French President Emmanuel Macron, German Chancellor Olaf Scholz, and Italian Prime Minister Mario Draghi arrived in the Ukrainian capital by train from Poland for talks with Ukrainian President Volodymyr Zelensky.
On June 8, the European Parliament adopted a resolution recommending that the European Union grant Ukraine the status of candidate country for EU membership. Some 438 members of the European Parliaments voted in favor of the resolution, with 65 voting against and 94 abstaining.
This story was provided to Newsweek by Zenger News.