Watch: Russian Troops Scramble After Ukrainian Drone Drops Bomb On Trench
Video reportedly captured the moment a Ukrainian drone dropped a bomb on Russian soldiers in a trench and sent them scrambling.
The Command of the Special Operations Forces of the Armed Forces of Ukraine said the attack took place near Sievierodonetsk in the country's easternmost region of Luhansk Oblast.
The Ukrainian military said in a statement Monday: "A demoralized, morally and physically exhausted enemy is always easier prey for our soldiers of the Defense Forces. And the operators of the Special Operations Forces [SSO] of the Armed Forces of Ukraine know many ways to keep the Russians in suspense."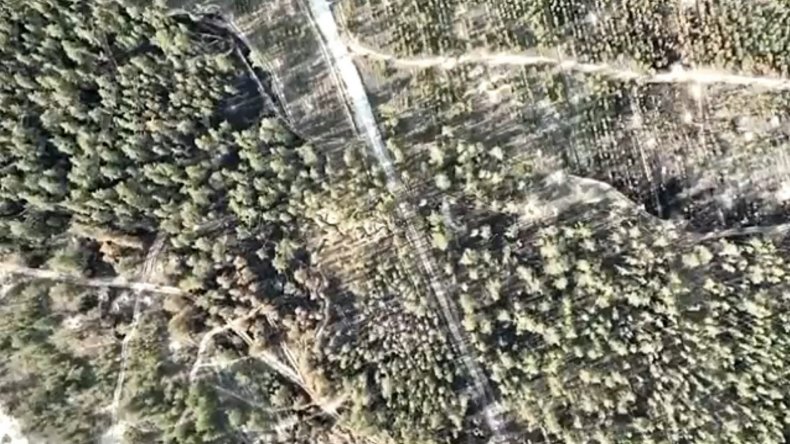 "Here is a video of how a small drone in the skillful hands of the SSO operator, with light and inexpensive ammunition, can cause considerable panic in the positions of the occupiers in the area of Sievierodonetsk.
"As a result of the attack, according to our soldiers, four Russians received a 'good' status and will return home in body bags. The demoralized unit of the occupiers left the position in a panic.
"On the frontlines, our operators take part in such action all the time. It is important for us that the Russian invaders expect danger every minute, grow tired and lose important attention at the front. Soldiers of the SSO of Ukraine perform this task surprisingly well."
Russian troops invaded Ukraine on February 24 in what the Kremlin is still calling a "special military operation." May 24 marks the 90th day of the campaign.
From February 24 to May 24, the total combat losses of Russian troops stand at around 29,350 personnel, according to the General Staff of the Armed Forces of Ukraine.
The Ukrainian military also claims that Russia has lost 1,302 tanks, 3,194 armored fighting vehicles, 606 artillery systems, 201 multiple launch rocket systems, 93 anti-aircraft systems, 205 warplanes, 170 helicopters, 2,213 motor vehicles and fuel tankers, 13 vessels, 480 unmanned aerial vehicles, 43 units of special equipment, and 112 cruise missiles.
Last week, Ukrainian President Volodymyr Zelensky called Russia's invasion of Ukraine an "absolute failure" and said Russian leaders were afraid to acknowledge "that catastrophic mistakes were made at the highest military and state level."
Zelensky also said that said Ukraine is determined to reclaim control over the southern cities of Kherson, Melitopol, Berdiansk, Enerhodar, and Mariupol, currently occupied by Russian forces.
This story was provided to Newsweek by Zenger News.