Video shows the moment Russian troops sent a drone into the sky to carry out reconnaissance of hidden Ukrainian targets before launching a deadly strike.
The Russian Ministry of Defense (MoD) said soldiers carry out round-the-clock reconnaissance of enemy targets before passing on the information to artillery units.
The Ministry said in a statement Friday: "As part of the current special operation in Ukraine, unmanned systems are effectively solving all their tasks. They face various obstacles from the enemy, but this does not affect their overall results."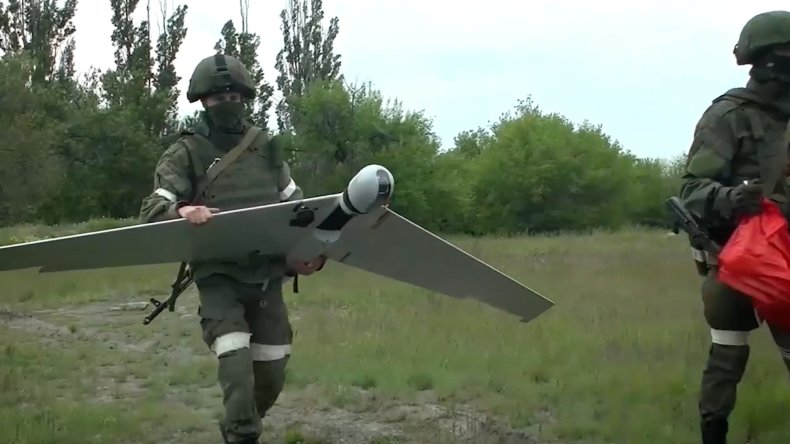 "UAV crews carry out round-the-clock search and reconnaissance of targets before sending the target designations to the artillery units.
"During the battle, drone crews carry out adjustments to artillery fire, conduct the video recording of damage to enemy objects and equipment."
The Russian MoD added: "The drones also carry out reconnaissance of the actions of the retreating units of the Armed Forces of Ukraine."
Zenger News contacted Russian and Ukrainian officials for comment but had not received a reply at the time of writing.
Meanwhile, the General Staff of the Armed Forces of Ukraine reported that between February 24 and June 10, Russia had lost 31,900 personnel, 1,409 tanks, 3,450 armored fighting vehicles, 712 artillery pieces, 222 multiple launch rocket systems, 97 anti-aircraft systems, 212 warplanes, 178 helicopters, 2,438 motor vehicles and fuel tankers, 13 warships, 572 tactical drones, 54 pieces of special equipment and 125 cruise missiles.
More than 1,000 Ukrainian troops captured in Mariupol have been transferred to Russia, according to Russian media. Ukrainian officials estimate that at least 21,000 civilians have been killed in the city.
An aide to Ukrainian President Volodymyr Zelensky said that Ukraine is losing up to 200 troops a day.
Russian troops invaded Ukraine on February 24 in what the Kremlin is still calling a "special military operation." June 10 marks the 107th day of the campaign.
This story was provided to Newsweek by Zenger News.