Watch: Russia's Bizarre Zip-Wire War Games With Syria
Russian troops carried out a baffling training day with elite special operations forces in Syria.
Russian squads joined forces with members of the Arab state's 25th Special Mission Forces Division, nicknamed the Tigers.
The exercise, staged in the Syrian Arab Republic (SAR), showed off an array of curious techniques that might have seemed more at home in a Mad Max movie.
At one point in the official footage, a Syrian soldier slides headfirst down a zip wire with two national flags streaming behind him.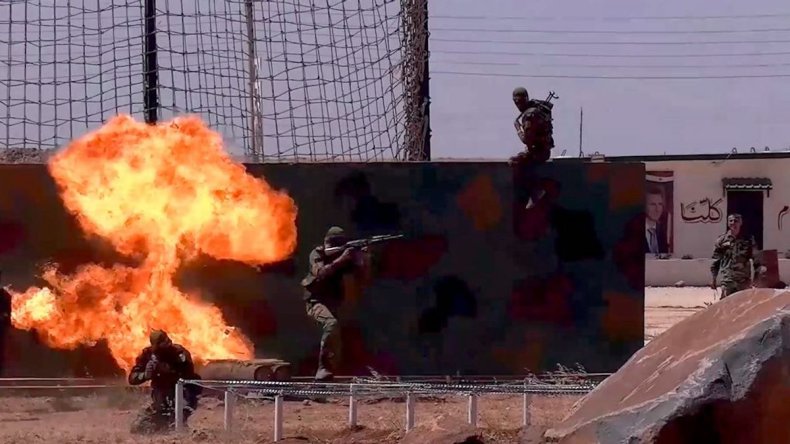 Another clip shows two-man motorcycle assault teams speeding out of a helicopter with the pillion passengers kneeling on the seat taking aim with an assault rifle.
Other edits show troops jumping through hoops of fire like a circus act.
The Russian MoD said Tuesday: "The 'Tigers' Special Forces Division held joint exercises with the Russian unit of troops in the Syrian Arab Republic (SAR).
"Helicopters, fighter jets and combat crews on motorcycles were involved in the exercises.
"The 'Tigers' Special Forces Division is considered one of the most combat-ready in the Syrian army."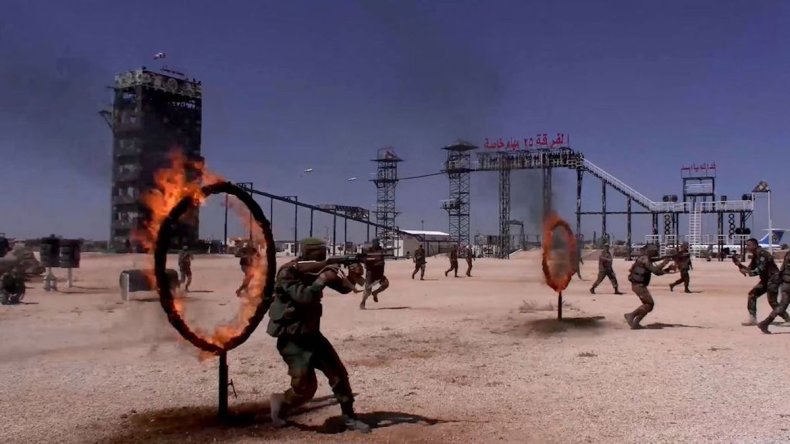 Zenger News contacted Russian and Ukrainian officials for comment but had not received a reply at the time of writing.
Russian troops invaded Ukraine on February 24 in what the Kremlin is still calling a "special military operation." June 15 marks the 112th day of the campaign.
The General Staff of the Armed Forces of Ukraine reported that between February 24 and June 15, Russia had lost 32,750 personnel, 1,440 tanks, 3,528 armored fighting vehicles, 722 pieces of artillery, 230 multiple launch rocket systems (MLRS), 97 anti-aircraft units, 213 warplanes, 179 helicopters, 2,485 motor vehicles and fuel tankers, 13 boats, 591 unmanned aerial vehicles, 55 special equipment units and 129 cruise missiles were shot down.
President Volodymyr Zelensky has said that Ukraine is suffering "painful losses" in its eastern Donbas region. He stressed that Ukraine needs modern anti-missile weapons to defend its territory. The United Kingdom and the United States have said they are sending long-range missile systems to Ukraine, but Ukrainian officials have said that weapons are not arriving fast enough. An adviser to Zelensky, Mykhailo Podolyak, has said that to end the war, they need "1,000 howitzers caliber 155 mm; 300 MLRS; 500 tanks; 2000 armored vehicles; 1,000 drones."
Russian President Vladimir Putin has warned of more attacks in Ukraine if the West sends long-range weapons.
Elsewhere in Ukraine, it has been reported there are ongoing attempts to set up a civilian corridor out of the encircled city of Severodonetsk. It isn't clear if Russia has halted its attacks in the key eastern city to allow for evacuation, and hundreds of civilians are said to be trapped in a chemical plant.
The Russian army has said that evacuated civilians will be transported to separatist-controlled areas of the Luhansk Oblast region, but previous humanitarian corridor attempts have struggled to stay open.
Russian forces now control most of Severodonetsk after a month of intense combat, according to British military intelligence.
Also, NATO ministers are in Brussels for talks as Russia's military advances in the Donbas region prompt pleas from Ukrainian officials for more Western weapons.
This story was provided to Newsweek by Zenger News.