Watch: Russia's First High-Tech Postal Drone Launches—And Smashes Straight Into a Wall
Spectators gathered to watch the maiden flight of Russia's new high-tech postal delivery drone on Monday, getting a first glimpse at the machine that represents a revolution in mail delivery for the country's vast, sparsely-populated rural areas.
In front of the crowd, the drone—bearing the blue and white logo of Russian Post—lifted from its launchpad and began its first journey. But after a few seconds, the $20,000 machine veered out of control and smashed itself to pieces on a nearby apartment building, Reuters reported.
The failed test—in which the drone was supposed to deliver a package to a neighboring village—took place in the Siberian city of Ulan-Ude on Monday, roughly 2,730 miles east of Moscow.
There were no injuries from the crash, although the egos of local officials are no doubt bruised. Residents who gathered to watch the event could be heard cursing as the drone smashed into the building and tumbled to the ground.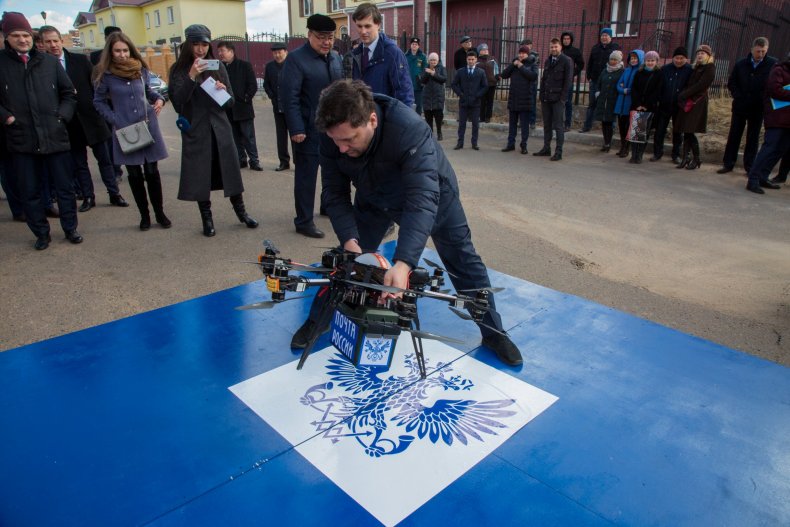 Russian Post quickly distanced itself from the experiment, saying its representatives only attended the event as guests. It pointed out that the drone was made by a company called Rudron/Expeditor 3M. The same company organized the test, Russian Post said.
In 2016, Russian Post announced plans to introduce drones for parcel deliveries across the country. It would appear that much more work is needed before a futuristic drone delivery network is feasible.
Alexei Tsydenov, the head of the Buryatia region who was present at the crash site, suggested local Wi-Fi networks might have caused the crash. He said that more than 100 connections in the area could have interfered with the machine's control systems.
Despite the embarrassing outcome of this test, Tsydenov vowed that the project would continue. "We won't stop with this, we will keep trying," he said. "Those who don't risk don't get a result."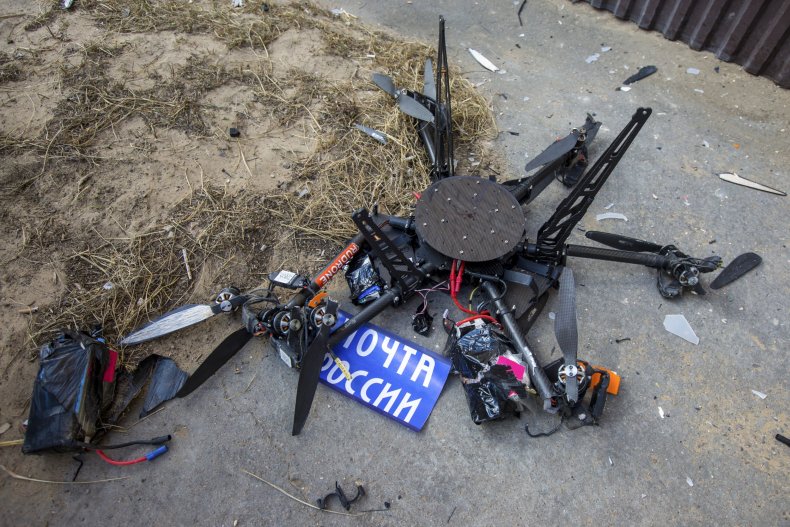 Logistics companies are investing huge sums of money in drone research. However, a 2014 Federal Aviation Administration (FAA) decision blocking paid deliveries via drone means U.S. skies are not yet filled with buzzing robot couriers just yet.
However, the promised convenience of drone deliveries for customers and potential cost-savings for companies means prohibition probably won't last. In 2017, Barack Obama issued a presidential directive calling on the FAA and Transportation Department to work with local officials to consider ways to allow U.S. companies to eventually use delivery drones.
Amazon is a leading proponent of drone delivery technology, and is already developing its Prime Air delivery service—the first successful test of which took place in the U.K. in 2016. In March, the company was awarded a patent for a delivery drone that can respond to human gestures and adjust its behavior accordingly. The company has also applied for patents covering projects including giant airships serving as mobile warehouses and drones that can self-destruct in an emergency.
While Russia's postal drone is an exciting project, for now its self-destruct response seems a little too sensitive.