Watch Chuck Schumer's Passionate Plea to GOP Senators After Uvalde Shooting
Senate Majority Leader Chuck Schumer called out his Republican colleagues and a gun rights organization and made a plea for action rather than thoughts and prayers in an impassioned address following Tuesday's school shooting in Texas.
Speaking on the Senate floor Wednesday, the New York Democrat cited a number of recent mass shootings while blaming the National Rifle Association (NRA) and the Republicans' "obeisance" to the organization for why gun control measures have not been passed by the legislative body.
His address came after 19 children and two teachers were killed at Robb Elementary School in Uvalde, Texas. The accused gunman, 18-year-old Salvador Ramos, had barricaded himself in a single classroom when he started shooting and was fatally shot by law enforcement responders. It was the second deadliest school shooting since 2012's Sandy Hook shooting in Newtown, Connecticut, in which 20 children and six adults were killed.
After noting that America has a gun violence problem unlike any other "of our peer nations in the world" and that "no American is safe from it," Schumer focused on his Republican colleagues in the Senate.
"But we also have a problem, a big problem here in the United States Senate. A big problem in the United States Senate. The problem in the Senate is simple: Too many members on the other side of the aisle are disconnected from the suffering [of] the American people. Too many members on that side care more about the NRA than they do about families who grieve victims of gun violence," he said.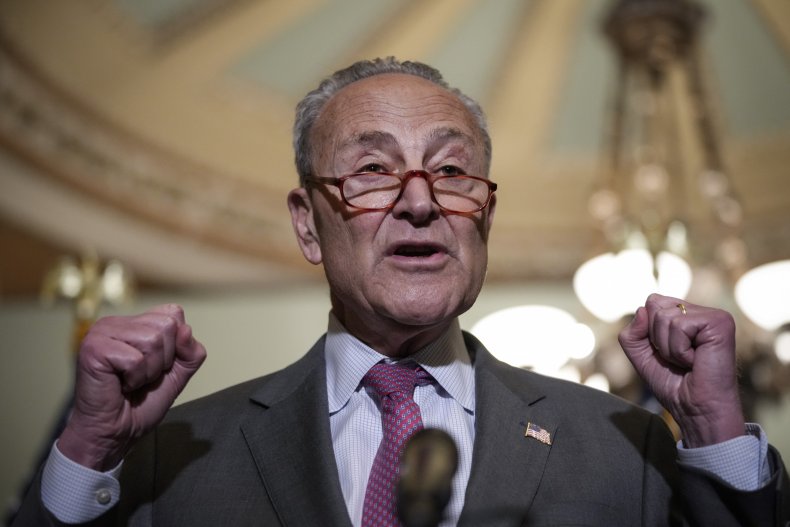 Instead of taking legislative action on gun control measures, Schumer said, all these senators offer are thoughts and prayers that aren't likely to help stop future shootings.
"It won't do a single damn thing to prevent another life from being taken. It won't do a single damn thing to prevent another child from being shot at school," he said.
Pointing his finger, Schumer said Senate Republicans needed to act on congressional passage of gun control legislation.
"When will it end? We must act...not thoughts and prayers—action," he said.
Schumer also noted that Tuesday's shooting is a part of the "plague upon this nation" and that it occurred just days after a mass shooting in Buffalo, New York, in which 10 people were gunned down in a supermarket.
"And then yesterday, just 10 days after Buffalo, that plague struck again in Uvalde, Texas, when 19, 19 innocent children and two teachers were gunned down at Robb Elementary in the middle of the school day just before the start of summer, when these kids were looking forward to having such a wonderful time with their family and friends," he said. "Gone. They're gone."
.