All eyes will be on Miami Thursday when night two of the first 2020 Democratic debates features a lineup of top contenders including former Vice President Joe Biden and the 2016 Democratic nomination runner up Bernie Sanders.
Thursday's debate, arguably more star-studded than the first debate the previous night, will begin at 9 p.m. ET at the Adrienne Arsht Center for the Performing Arts in Miami and will air on NBC, MSNBC and Telemundo. A live stream courtesy NBC News is available below.
Positioned in the middle two podiums will be Biden and independent Vermont Senator Sanders, who are the only two candidates who have made prior presidential bids. Some have labeled Biden as an extension of the policies of former President Barack Obama, whom he served under for eight years. Sanders, meanwhile, will have a chance to present his progressive ideas without being challenged by ideological rival Massachusetts Senator Elizabeth Warren, who was the frontrunner in the first debate.
Stage right of Biden will stand South Bend, Indiana, Mayor Pete Buttigieg, 37, who has demonstrated poise on national television and if elected would make history as the youngest and first openly gay president. Stage left of Sanders will be California Senator Kalama Harris, a former prosecutor who has garnered national attention by aggressively interrogating witnesses of the Trump administration in Senate committee hearings.
Another woman senator in the running, Kirsten Gillibrand, will be seeking a breakout moment as her campaign has struggled to gain momentum.
Attorney turned entrepreneur Andrew Yang could be a wild card in the debate. The political outsider qualified for the debate through donor and polling numbers, and has a platform unlike any other candidate, aimed at providing every American adult a $1,000 monthly "freedom dividend" to prevent job loss to automation technology.
Two other little-known candidates are best-selling spiritual author Marianne Williamson and California Representative Eric Swalwell, who often appears on television and before the debate said he did not plan on "butchering Spanish" like some of the candidates on Wednesday.
Two moderate Democrats are also taking the stage—former Colorado governor John Hickenlooper and Colorado Senator Michael Bennet.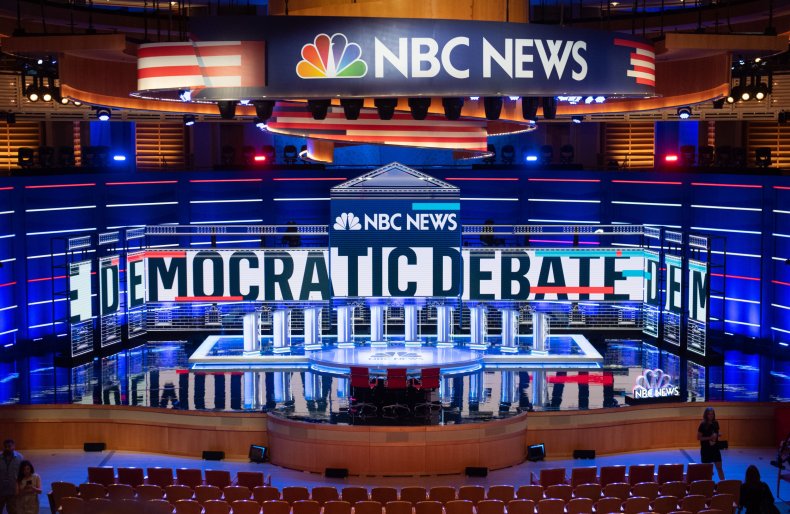 Democratic Debate Night Two Lineup (Left to Right)
Marianne Williamson
John Hickenlooper
Andrew Yang
Pete Buttigieg
Joe Biden
Bernie Sanders
Kamala Harris
Kirsten Gillibrand
Michael Bennet
Eric Swalwell
Time: 9 p.m. ET
TV Channel: NBC, MSNBC, Telemundo
Live Stream: NBCNews.com, Telemundo, Twitter, YouTube