Watch: Snake Surgeon Pulls Whole Slipper from Python
Updated | A vet in Australia has saved the life of a python who swallowed a slipper whole, performing surgery on the bloated creature.
Dr. John Llinas of Greencross Jindalee Veterinary Clinic, Queensland, put the wild carpet python under anesthetic for more than an hour, before slicing between 15 to 18cm into the snake to retrieve the shoe.
While large inedible objects will sometimes pass through a reptile's digestive system, Llinas concluded that the slipper was "just way too big" to come out on its own, he told Australia's Courier Mail.
A local snake catcher brought the bulging creature into the vet's surgery.
"They knew it had eaten a slipper because they saw [the snake] in the room with one slipper missing," said Llinas.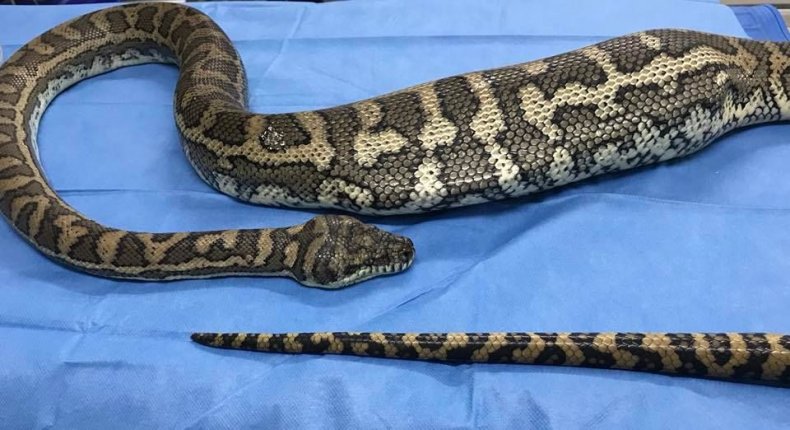 Judging the shape of the snake, Llinas said he was able to guess that it has eaten a slipper before he x-rayed or cut into the reptile.
After the slipper was removed, the snake's stomach was closed in two layers: the body wall muscle first, followed by the skin.
With its life saved thanks to Llinas, the snake will now need around eight weeks to fully recover from its ordeal.
"You can't make this stuff up folks," HerpVet, the reptile department at Greencross Veterinary Clinic, said in a Facebook post.
"This made for one of the most impressive radiographs I have seen," the post continued.
"Care was taken to minimize the risk of spillage and contamination of the surgical field and new gloves and instruments were used for closure," HerpVet said.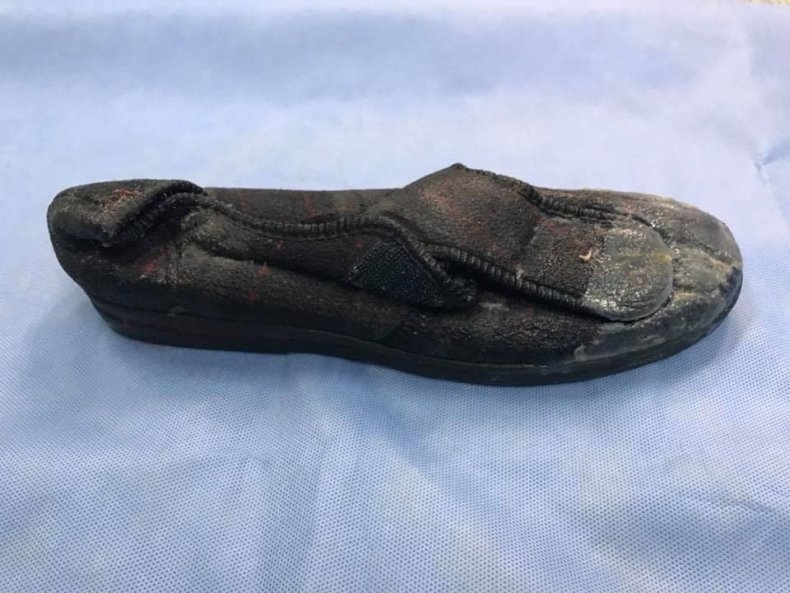 "This slipper is my oddest item I have found in a snake," Llinas told Newsweek. "I have also removed a pillow case, golf balls, tennis balls and artificial eggs." He added that snake owners should supervise their pets at all times and not to allow them to roam free. "Prevention is the best medicine," he said.
But all of these reptiles were trumped by a Burmese python in Florida who was found to have consumed an entire deer that weighed nearly ten times more than the snake.
Wildlife biologists found the heaving animal in Collier Seminole state park. It regurgitated the deer fawn when they tried to move it. The fawn weighed 35lb, the snake just 31.5lb.
"We were sitting there just trying to process that an animal this size could get its head around what turned out to be a deer," biologist Ian Bartoszek told USA Today affiliate Naples Daily News. "It's surreal to see that in the field."
Correction: This article has been updated to state that the incision was between 15 and 18cm long, not 45cm. It also includes a new quote from Dr. John Llinas and adds his honorific.