Watch: SNL's Cold Open Features Kate McKinnon as Lovelorn Lindsay Graham Pledging Eternal Support for President Donald Trump
What would it take for congressional Republicans to stop supporting President Donald Trump? Saturday Night Live asked that very question in the cold open for its May 11 episode, bringing in a slew of cast members to lampoon lawmakers who have been criticized for demonstrating steadfast loyalty to the Trump White House.
The skit, framed around a panel discussion on NBC's Meet The Press, featured Kyle Mooney doing an earnest impersonation of host Chuck Todd, Kate McKinnon in her lauded caraciture of Senator Lindsey Graham, Cecily Strong as a pushover Senator Susan Collins and Beck Bennett as an oblivious Senator Mitch McConnell.
When Mooney's Todd asked the loyalty question and put forth increasingly bizarre hypothetical scenarios that could reasonably weaken their support, the trio of characters took long detours that, predictably, ended with them continuing to pledge fielty to the blustery business mogul.
"Let's try Lindsay Graham. After opposing tariffs for decades, why do you support them from President Trump?," the faux Todd asked. Graham, notably, was opposed tariffs but reversed course to support Trump's decision to levy the fees on China.
Newsweek subscription offers >
"Chuck, listen, when you have a president who is a financial genius and a business Jesus, like Donald Trump, you just gotta trust him," McKinnon's Graham responded. "This man has lost 100 times more money than I ever made."
He continued: "Listen, I am a man of conviction and principles, unless he can help me and then it's 'New Graham, who dis?'"
When the lawmakers were asked whether they would continue supporting Trump even if Special Counsel Robert Mueller testified that the president had obstructed justice, both McKinnon and Bennett answered in the affirmative.
Newsweek subscription offers >
"Well, we need a leader who's willing to do what he's gotta do to win," SNL's ersatz McConnell replied.
"The best way to uphold the law is to be above it," replied the skit's Graham. At another point, McKinnon's lovelorn and apparently closeted version of Graham told the show's Todd he would gleefully accept an open-handed slap on the face from Trump. "Harder, daddy," he quipped.
Strong's Collins, meanwhile, continued to proffer answers that at first seemed like stern condemnations, but ultimately closed with her falling in line.
"I'd have to write a strongly worded email and send it straight to my draft folder," she said at one point. Strong's blistering portrayal even included the pro-choice Republican saying she'd support Trump even if the president professed to believe life begins "not at conception" but "at erection."
The questions and answers grew increasingly more bizarre: Would they support Trump if he were a "Louis Farrakhan"-style Muslim? Yes. Would they support him if he left first lady Melania Trump for alleged former paramour and adult film star Stormy Daniels? Yes. What about if he left his wife for ultra-progressive Rep. Alexandria Ocasio-Cortez? At first no, but then definitely yes. The characters even said they'd support the president if he "got gay married" to the leader of the terrorist ring ISIS and had "matching diapers fashioned out of the original documents of the constitution."
Watch the full skit in the video above.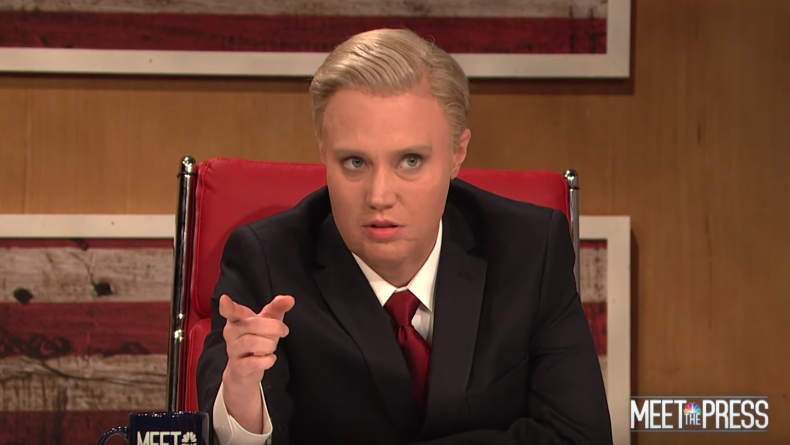 Watch: SNL's Cold Open Features Kate McKinnon as Lovelorn Lindsay Graham Pledging Eternal Support for President Donald Trump | U.S.