How Stephen Colbert and His Alter Ego Said Goodbye to Embattled Bill O'Reilly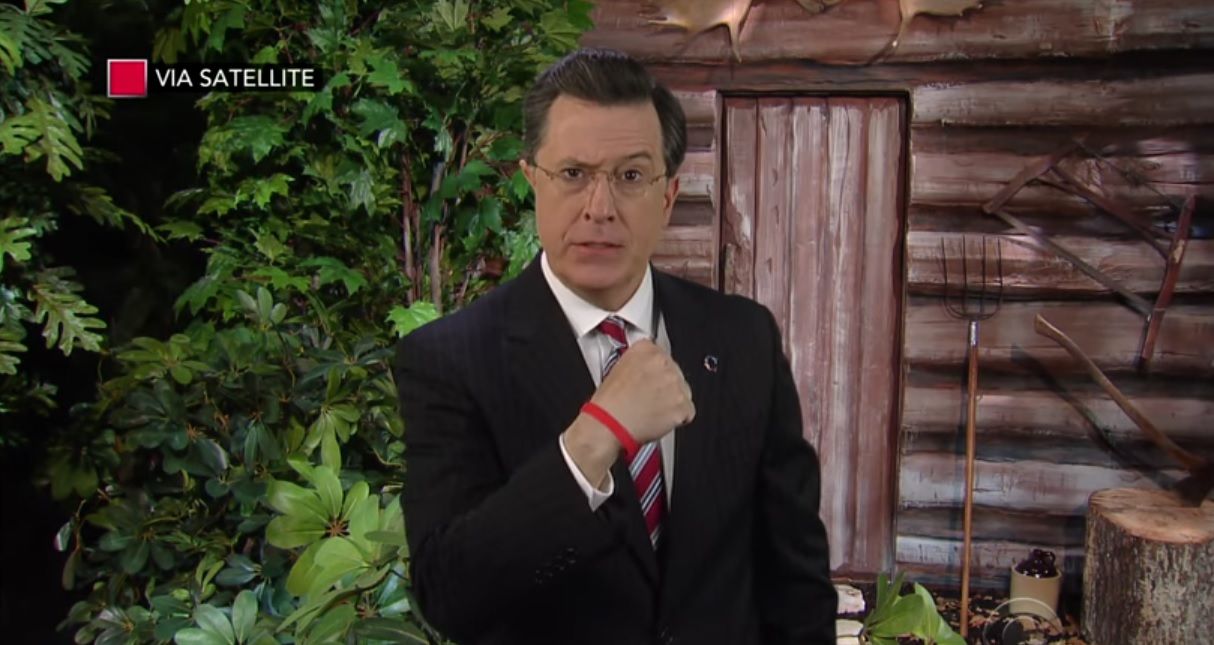 The Late Show's Stephen Colbert revived a popular skit from his former program, The Colbert Report, Wednesday night to bid a fond farewell to ousted Fox News anchor Bill O'Reilly.
Colbert often lampooned O'Reilly's abrasive style of political punditry on his Comedy Central show, introducing himself as "conservative pundit 'Stephen Colbert'," a politically incorrect far-right commentator.
The talk show host brought back his alter-ego on The Late Show after devoting his opening monologue to the news that O'Reilly had parted ways with Fox News after 20 years, following several allegations of sexual harassment.
"Over the years, I have talked one or two times about Fox News host, and bold fresh piece of humanity, Bill O'Reilly. Now, like him or not, a lot of people watched him. He had the Number 1 cable news show for 15 years…until today."
Watch below:
He introduced the skit saying, "I owe a lot to Bill O'Reilly. I spent nine years playing a character based on him. Then 12 months in therapy to de-bloviate myself."
He then introduced O'Reilly sympathizer "Stephen Colbert," who appeared via satellite to offer his well wishes to the controversial pundit.
"Shame on you; you failed Bill O'Reilly," said Colbert, in character. "All he ever did was have your back. And if you're a woman, had a go at the front too."
He added: "Suddenly sexual harassment is a crime?"
The real Colbert also cracked a few jokes at O'Reilly's expense.
Related: Bill O'Reilly and Fox News part ways following sexual harassment allegations
"It's not a surprise, we all saw this coming at us—like an old man at an intern in the break room," he said.
Colbert called O'Reilly a "self-righteous land full of angry garbage," and joked that he could fall back on his other career as an author.
"He's the author of Killing Lincoln, Killing Kennedy, and his latest book, Killing My Career," he joked.
Colbert punctuated the segment with a jibe aimed at the U.S. President. "In case you're a fan of sexual harassers who are on TV all the time—we still have Donald Trump."
After a series of sexual harassment allegations, parent company 21st Century Fox confirmed Wednesday that O'Reilly, host of The O'Reilly Factor since 1996, would not return to the Fox News network after his vacation. A New York Times article published April 1 reported that five women were paid a total of $13 million in settlements by O'Reilly and the company in exchange for not pursuing litigation or speaking out publicly.
"After a thorough and careful review of the allegations, the company and Bill O'Reilly have agreed that Bill O'Reilly will not be returning to the Fox News Channel," 21st Century Fox said in a statement.
In a statement, O'Reilly said "it is tremendously disheartening that we part ways due to completely unfounded claims. But that is the unfortunate reality many of us in the public eye must live with today."
"I will always look back on my time at Fox with great pride in the unprecedented success we achieved and with my deepest gratitude to all my dedicated viewers. I wish only the best for Fox News Channel," he added.