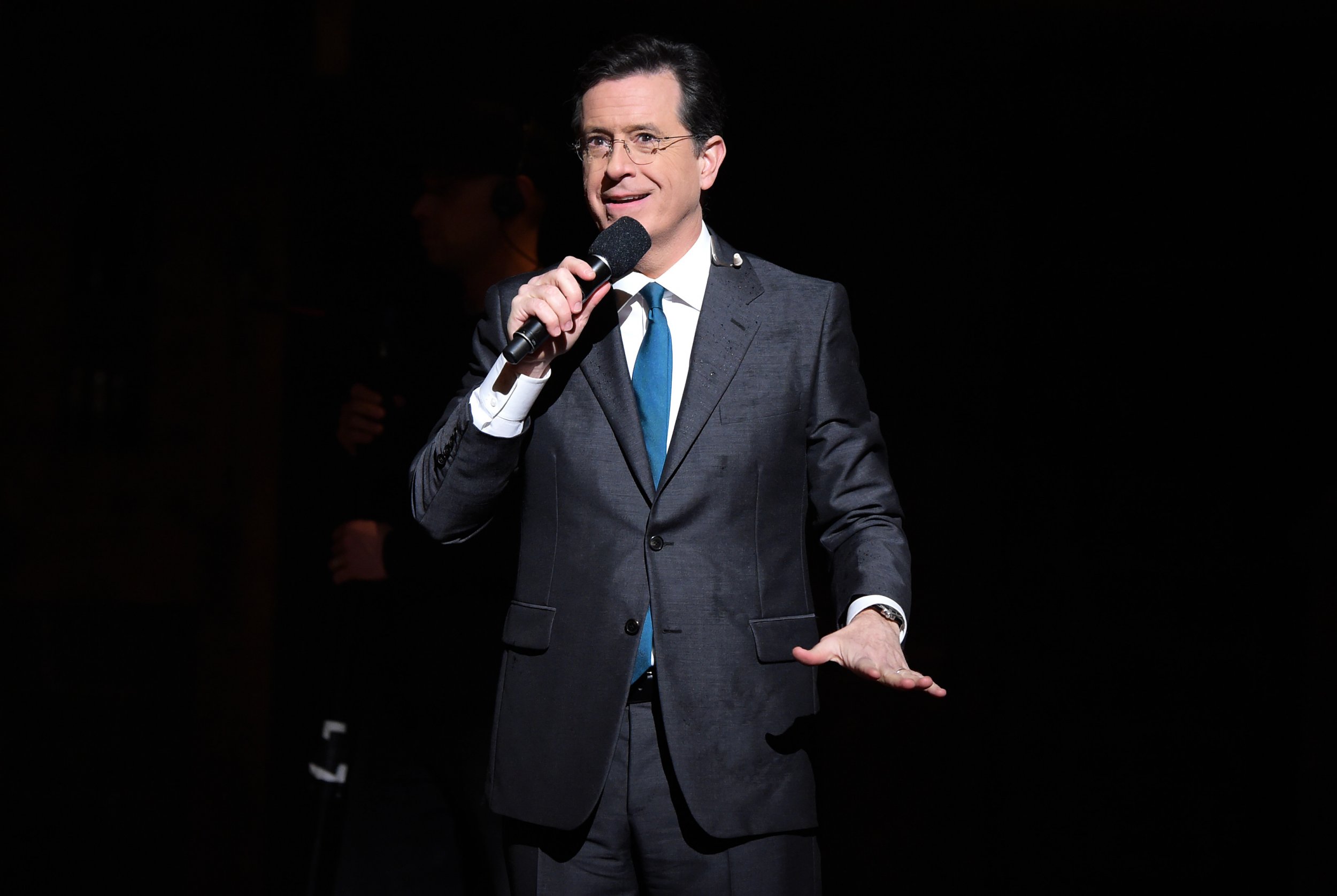 Johnny Depp and Amber Heard had to expect their bizarre video apology —after Heard escaped charges for breaking Australian pet quarantine laws—on Monday would prompt a flurry of viral parodies. Leading the charge is Stephen Colbert, who apologized for his own misdeeds on The Late Show on Tuesday.
The late night talk show host suggested the pair were forced to make the "totally convincing apology" because they were held at gunpoint by armed kangaroos.
Colbert then introduced his own clip, featuring a pretty spot-on impersonation of Depp, while an actor portrayed Heard.
"Australia is a land surrounded by sharks and onions and blooming onions," begins the woman playing Heard.
Colbert as Depp adds: "Australia is truly a lovely lady."
The woman continues: "I am truly sorry that on a recent visit to your country, we failed to declare our dogs, Sparkles, Lurch and Colonel Dog Face."
Colbert then said: "Nor did we declare my colony of parakeets, whom I rightfully call the funky bunch. Nor my two 500-pound feral hogs, Niles and Frasier. It was wrong. Even if they are service animals. Which they are not."
The comedian went on to apologize for smuggling the actor playing Heard into the country, saying she "has not had her shots."
Ticking off the long checklist of stereotypes, Colbert ended the apology by whipping out a didgeridoo to play the Australian national anthem.
Of course, Colbert's isn't the only parody of the video, which spawned countless memes on social media in the 48 hours since it was released on Monday.
Fellow late night host Jimmy Kimmel put the video through Snapchat filters:
Here are Depp and Heard singing The Muppets:
There was the obligatory face-swap:
YouTube comedian Natalie Tran showed what happened behind the camera:
A definitive ranking of Depp's worst cinematic roles:
And for extra laughs, The Guardian had their film critic review the video. No, really.