Stephen Colbert made fun of a tweet by White House press secretary Sarah Sanders in which she gloated over the findings of the Mueller investigation into Russian interference in the 2016 presidential election.
The report by special counsel Robert Mueller found no evidence that Donald Trump and his campaign team conspired with the Kremlin during the 2016 campaign to sway the election, according to a summary by Attorney General William Barr. But the report reached no conclusion on the question of whether the president had obstructed justice.
With the White House claiming victory, Sanders sent out a diagram, published as part of an editorial by the New York Post, titled "Mueller Madness," which was designed as a bracket of media figures, complete with their quotes about the Mueller probe.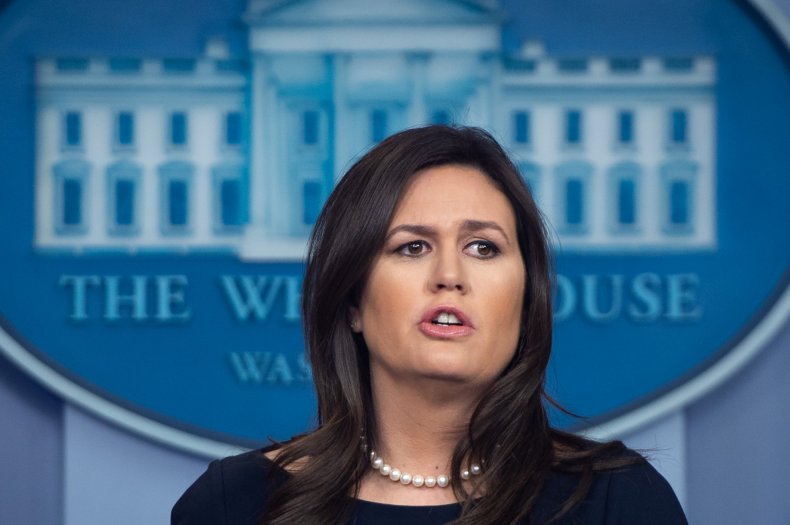 She tweeted: "Which of the angry and hysterical Donald Trump haters got it most embarrassingly wrong? #YouDecide."
But The Late Show Wth Stephen Colbert host made fun of her attempt at media-shaming. Calling her "Huck-a-buck," he took pride in his No. 3 place in the sports-style diagram.
In response to the wording of her tweet, he said in his opening monologue: "Regarding the hashtag 'you decide'—it is also the hashtag Robert Mueller used regarding the obstruction charge."
Colbert continued: "As soon as I saw this jokey bracket full of media personalities Huckabee wants to smear…I knew it was a waste of my time until I realized, I made it to the big dance," referring to his high placing. "I'm a conference champ baby!" he said as the audience cheered.
Colbert referred to the quote next to his image in the bracket that said: "No collusion is Trump's 'aloha.' It means both 'hello' and 'I'm guilty.' Aloha!"
He said on Tuesday night's show. "Up until about 48 hours ago, that was a solid joke."
He also gloated over how he was higher on the list than fellow TV host John Oliver, about whom he said, "Sorry John, it looks like I am ranked higher in the fake New York Post bracket. I guess you will have to content yourself with all those Emmys, sucker."
Meanwhile, the host of Jimmy Kimmel Live! took a similar tack in criticizing Sanders, joking that "it is amazing that she has time for this in the middle of a national emergency down at the border."
"Poor Sarah Sanders. She's probably just a nice, dumb lady who is the only one who would take this job. She has to constantly defend nonsense, and now she finally has a chance to fire back, and this is how she does it, with a wacky Mueller madness bracket," Kimmel said.