Watch: Suspect Hurls Axe in Violent Road Rage Incident
A dashboard camera captured the moment a road rage incident turned violent. The video shows a man cutting off another car and hurling an axe at a driver's windshield before driving away.
The incident took place off Interstate 5 in Washington State as both drivers were attempting to merge onto a highway. That's when the driver of the Jeep started honking repeatedly as both vehicles traveled northbound.
Video obtained by Q13 Fox showed the driver of the Jeep cutting off the victim's vehicle before getting out of his car and throwing an axe. He then hit the median and drove off.
Authorities were able to identify the suspect, 47, through surveillance and found that he had been arrested in a bordering county. However, his name has not been made public.
"There were some additional surveillance images that allowed us to get a good resolution of the license plate and using that information we were able to identify the Jeep's registered owner," King County Sheriff Sergeant Tim Meyer told Newsweek. "Some checking from there helped detectives determine he was already in custody."
Authorities in the bordering county of Snohomish arrested the suspect where he is facing multiple charges and is still in custody.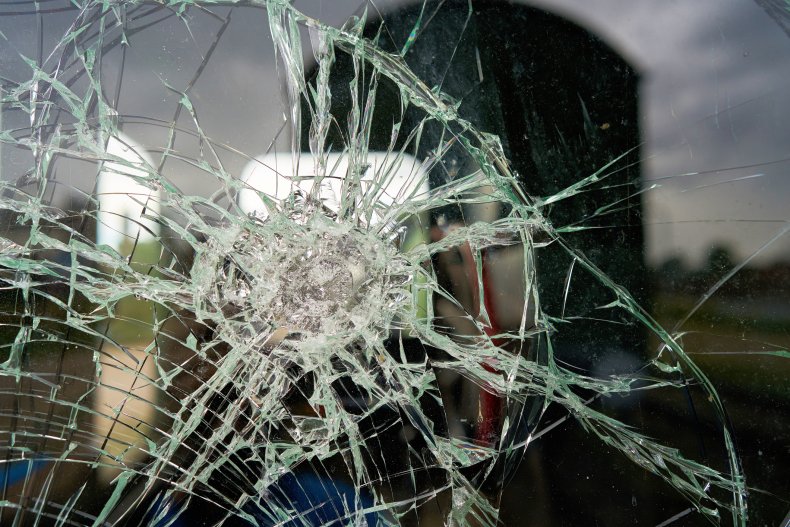 Three days after the incident, the suspect was arrested for multiple other felonies, including another road rage incident in a bordering county.
Road rage incidents have seen a steady incline since the pandemic, according to Washington State Patrol. Just last month, a road rage incident resulted in a shooting on the same Interstate 5.
"It appears we have more aggressive driving, more road rage incidents, we have more brandishing of weapons," WSP Trooper Rocky Oliphant told King-5 News.
A report from the American Automobile Association (AAA) found that nearly 80 percent of U.S. drivers engaged in at least one aggressive driving behavior in the past year. The report also found that "nearly 2 in 3 U.S. drivers believe that aggressive driving is a bigger problem today than three years ago."
A recent incident in Florida involved a man threatening to commit mass murder following a road rage incident. The suspect, 28, is facing numerous charges including felony battery, threatening to commit a mass murder, and DUI involving property damage, according to the Pinellas County Sheriff's Office.
Another recent incident in Houston, Texas resulted in a 9-year-old boy being accidentally shot in the chest. According to authorities, the boy's father believed he was being followed by another vehicle and pulled out his gun.
Using statistics from the Gun Violence Archive, Everytown USA found that in the past year, there have been, on average, 42 people per month killed or wounded in road rage shootings.
Updated 08/13/2021, 4:36 p.m. ET: This story has been updated with a statement from King County Sheriff Sergeant Tim Meyer.