A woman confronted Environmental Protection Agency Administrator Scott Pruitt in a Washington, D.C., restaurant on Monday in the latest public confrontation between a member of the public and a Trump administration official.
Teacher Kristin Mink posted the video of the incident on Facebook Monday. While holding her young son, she accused Pruitt of climate change denial and urged him to resign.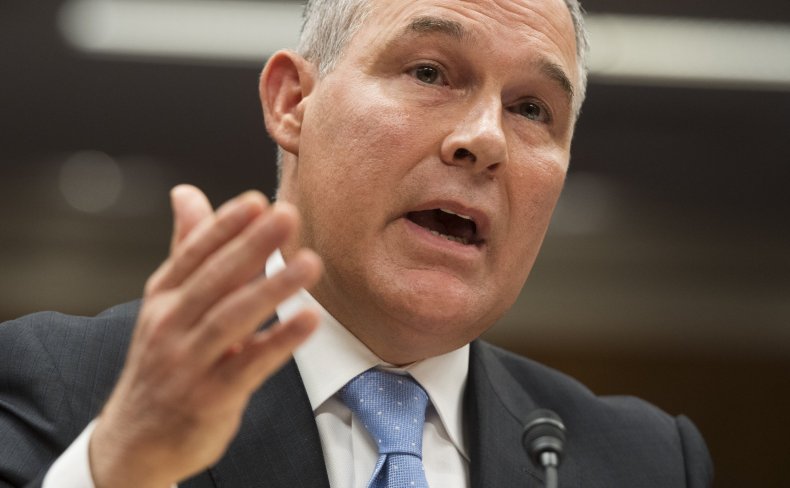 "We deserve to have someone at the EPA who actually does protect our environment; someone who actually does believe in climate change and actually takes it seriously for the benefit of all of us, including our children," Mink said.
"So, I would urge you to resign before your scandals push you out," she added.
In the video, Pruitt listened silently as the woman berated him.
In an interview with the New York Post, Mink, a 33-year-old mother from Silver Spring, Maryland, said that she saw Pruitt sitting three tables away as she ate lunch with her family in Washington, D.C.'s Teaism restaurant.
"He had no response, he had no defense, he had no apology, he did no explaining, he did no denying," she said of Pruitt.
"I had to say something. This man is directly and significantly harming my child's—and every child's—health and future," she tweeted Monday.
She said that Pruitt and his lunch companion left the restaurant shortly after the confrontation.
Pruitt's spokesman, in a statement to the Post, said the administrator welcomed input from members of the public, "whether they agree or disagree with the decisions being made at EPA. This is evident by him listening to her comments and going on to thank her, which is not shown in the video," EPA spokesman Lincoln Ferguson said.
"His leaving had nothing to do with the confrontation, he had simply finished his meal and needed to get back to the EPA for a briefing."
Pruitt has been embroiled in a series of controversies since he was appointed to lead the agency in 2017, with CNN reporting Monday that he had kept "secret" calendars to shield controversial meetings with industry representatives from public scrutiny.
In recent weeks, activists and members of the public have confronted Trump administration officials in public, with Homeland Security Secretary Kirstjen Nielsen and White House adviser Stephen Miller heckled in restaurants at the height of controversy over the child separation policy.
White House press secretary Sarah Huckabee Sanders was asked to leave a Lexington, Virginia, restaurant over her defense of the policy.