WATCH: Terrifying Encounter with Great White Shark in New Jersey Caught on Video
A group of New Jersey fisherman received a surprise visit from a 16-foot great white shark on Monday, and it was all caught on video.
"We've fished for sharks a lot and never seen anything like that. We were amazed by how big it was," the captain of the boat, Jeff Crilly, told Asbury Park Press.
Crilly and his four-member crew were taking part in a mako shark tournament called MakoMania, which the website calls the "...premier shark fishing tournament in New Jersey." Crilly's boat, stationed roughly 30 miles from Manasquan Inlet, had bait hanging off the side of the boat to lure mako sharks when they were surprised by a shark considerably larger than the smaller mako sharks—known for being short and their pointy faces, usually weighing between 130 and 300 pounds.
"It was harder to guess the weight because we had nothing to compare it to, but it was probably about 2,000 pounds," Crilly said.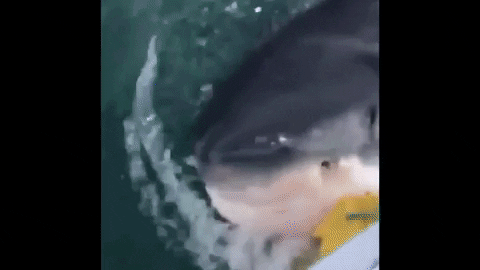 The video shows the fisherman noticing the shark approaching the boat, excitement of the crew heard in the background.
"Oh my God. Holy s***! This thing is huge," one fisherman says as the shark approaches the boat.
The shark then grabs the bait, biting it off from the pole it's resting on. The face of the shark can be seen jumping from the water, resting on the side of the boat. It plays like a scene from Jaws.
"Dude, that was the coolest f***ing thing I've ever seen," another fisherman says as the shark swims away, unhooked, with the bait (and fortunately not one of the fisherman).
"Once in a lifetime man. Once in a lifetime. I can't believe that just happened," a fisherman says.
Marine experts say encounters like the one Crilly had are extremely rare.
"As the population continues to rebound, of course, these chance encounters could increase. This is still a very rare encounter off New Jersey for this elusive fish," Melissa Michaelson, of Brick and a volunteer at the Shark Research Institute, told the Asbury Park Press.
It's possible the shark was actually a young shark, called a pup. That part of the New York/New Jersey area is thought to be a popular nursery for great white sharks.
Shark attacks and sightings have been on the rise on the east coast. Just in North Carolina, there have been three attacks this month alone. This past weekend an 8-year-old boy was bitten. The child, expected to survive, was bitten while swimming at South Bald Head Wynd.