WATCH: Texans Honor Late Owner Bob McNair, Win Eighth Straight Game in MNF rout of Titans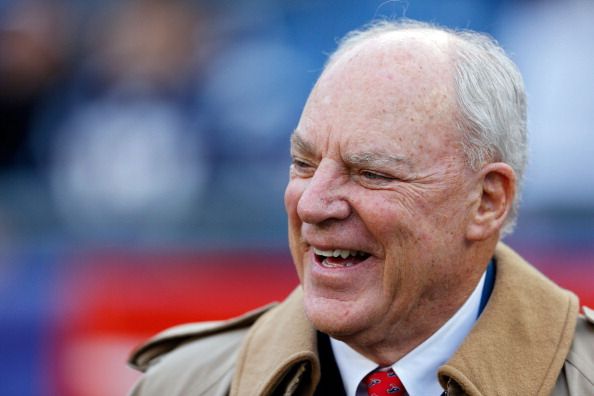 The Houston Texans honored late owner Bob McNair during their 34-17 victory over the Tennessee Titans on Monday Night Football.
Houston wore helmet decals and lined its 25-yard lines with the initials "RCM" in the shape of a football in honor of McNair, who passed away after a battle with cancer three days prior. The Texans also held a pregame video tribute which played alongside a live performance of "Amazing Grace" by the Texas A&M Singing Cadets choir.
The 81-year-old, who battled skin cancer for several years, championed the campaign to bring an NFL franchise back to Houston in 1999 after the Houston Oilers relocated to Nashville after the 1996 season and eventually rebaranded as the Titans.
Fittingly, Tennessee faced the Texans -- who launched as an expansion team in 2002 -- on Monday night in a performance that would've made McNair proud. Houston rolled to its eighth consecutive win and extended its lead for first-place in the AFC South to three games.
Quarterback Deshaun Watson threw for 210 yards and two touchdowns on 19 of 24 passing, while also recording 70 yards and a touchdown on nine rushing attempts.
"We just got on the same page," Watson told ESPN's Lisa Salters after the game. "Everybody just did their job, stayed focused, didn't let the adversity early on get to us and we know we just have to play complimentary football."
Running back Lamar Miller added 162 rushing yards and a touchdown, which he scored on a 97-yard run, a feat he's now accomplished twice in his career.
"My whole mindset was 'just don't get caught,'" Miller told Scott Van Pelt on ESPN SportsCenter after the game. "I just tried to keep running and just tried to make a play for this team."
Miller became the first player in NFL history to record multiple touchdown runs of 93 or more yards during his career. He also joined Pittsburgh Steelers wide receiver Juju Smith-Schuster and former Chicago Cardinals receiver Gaynell "Gus" Tinsley as the only players in NFL history with two career touchdowns of 97-plus yards from scrimmage.
Defensive end JJ Watt continued what has been a career resurgence in 2018. Watt recorded his 11.5 sack of the season and his fifth forced fumble after being limited to a total of eight games during the past two seasons.
Watt's defensive unit forced a 4th-and-1 stand, which set up Miller's 97-yard touchdown on the very next play.
"Oh it was incredible," Watt told Salters. "For Zach [Cunningham] to be able to come up and stop that hole like that and then Lamar can take it to the house. That's picture-perfect right there. A fourth down stop followed by 97 yards, we'll take that everytime."