Watch: Texas Meteorologist Chomps Scorpion Pepper Before Funny Friday Forecast
A meteorologist in Texas took a bite from a scorpion pepper just moments before his Friday afternoon forecast in someone's backyard, something he regretted while on-air.
According to pepperhead.com, a site that dedicates itself to ranking the hottest peppers in the world, the scorpion pepper is fifth on the top 10 list — depending on which one you get. Regardless, the scorpion is ranked way ahead of the No. 10 habanero pepper, and it's more than 100 times hotter than a jalapeño pepper.
KBTX, the CBS affiliate out of Bryan-College Station, has hosted a segment on Fridays during summer months called Backyard Barbeque, where the weather staff films a segment for a local backyard party for the weekend forecast. Though it's usually a smattering of Texas BBQ and other local flavors, meteorologist Max Crawford was enticed to chew on a scorpion pepper just before his segment began.
"Gotta tell you, that was spicy from the get-go," Crawford said just a couple of seconds after chewing into the pepper. "This is going to be interesting."
Newsweek subscription offers >
Crawford began his forecast speaking relatively normal, and then with slight pauses when it sounded like he was having trouble catching his breath.
Newsweek subscription offers >
"And as we go into this afternoon, we're hooking (hiccup sound), at temperatures in the low 90's with feels-like temperatures in the (breath pause) upper 90's as well, even close to the triple-digit mark," Crawford said only a quarter of the way into his full segment before pausing again to catch his breath, letting out a small burp and saying, "guys, this is very, very, (hiccup) hot. Ok. I gotta get through this."
Crawford kept describing the upcoming scorching temperatures in the Brazos Valley area of Texas, and he kept pausing, hiccupping and sniffling through his forecast.
He talked about Gulf moisture approaching the Texas coast, all while trying to disguise his scorching mouth until he let folks know how hot it really was. He even told the camera, "I wish you could see all the people laughing behind us."
"Hooooo," Crawford said as he turned his head trying to apparently get a cool stream for the scorpion. "Gotta compose myself, I'm sorry, guys."
Crawford said the chance of thunderstorms on Sunday afternoon would have been welcome for him to "cool off right now."
He made his way through the forecast with obvious sniffles, pauses in the forecast and a rush to get through his segment.
"Karla, that may have been one of the worst decisions I've ever made in live TV in my entire career," Crawford told anchor Karla Castillo back at the station, wiping his eyes as he said it. "I am crying, I am hiccupping, my nose is running. That scorpion pepper was really, really hot. Take my word for it, don't try that at home."
Crawford then joked he might have "to jump in this pool" to cool down.
Following his evening report at 10 p.m. Central Time, Crawford said he was given permission by the station's chief meteorologist to do the segment after eating the scorpion pepper, and was even encouraged to eat the pepper right before hitting the airwaves.
According to the Scoville Heat Unit (SHU), which measures the spice intensity of peppers, the Carolina Reaper is the spiciest and hottest at 2,200,000 SHU — or 200 times hotter than a jalapeno pepper. The scorpion pepper is 1,463,700 SHU, which is described to burn like you "have swallowed 1,000 suns."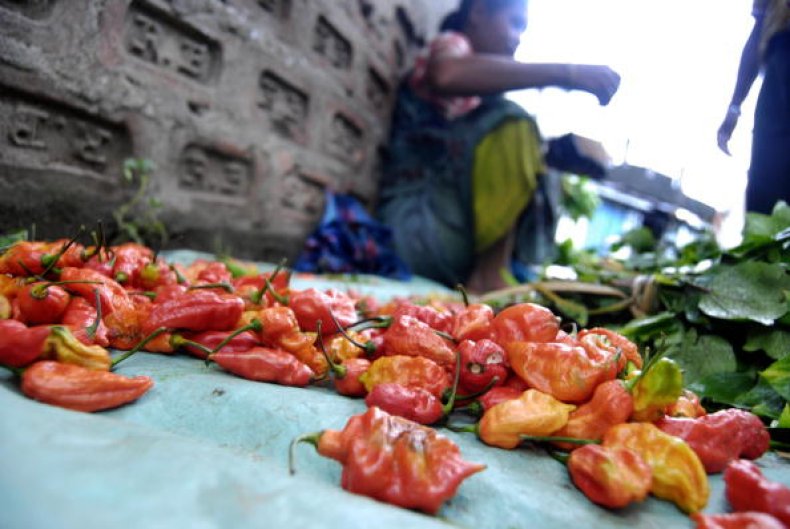 Watch: Texas Meteorologist Chomps Scorpion Pepper Before Funny Friday Forecast | News