Watch These First Responders Sing to Dr. Anthony Fauci for His 80th Birthday
Today is Dr. Anthony Fauci's 80th birthday—perhaps you've heard of him. The director of the National Institute of Allergy and Infectious Diseases was born on this day, Christmas Eve, in 1940. Throughout his career, the octogenarian has worked tirelessly to help keep the public safe and informed, and throughout the ongoing coronavirus pandemic, Dr. Fauci has been a steadying and reassuring presence.
And to show their appreciation, a group of people surprised Dr. Fauci by singing "Happy Birthday" to him when he left work recently. As seen in a video shared online by The Hill, the crowd of people cheered as he exited the building and thanked him for all that he's done.
The immunologist, clearly touched by the display, made sure to pose for a masked picture with some of the first responders who sang to him. He also took home one of the birthday signs that had been made in his honor.
Those folks weren't the only ones who wished Dr. Fauci a happy birthday, though. Future First Lady Dr. Jill Biden shared a clip on Twitter of her and President-elect Joe Biden singing "Happy Birthday" to Dr. Fauci. "Hey, pal, happy birthday," President-elect Biden chimes in at the end.
So, even though Dr. Fauci is having a socially distanced birthday this year, he's still getting plenty of love from people online. So many tributes to the immunologist were posted on Twitter that his name was trending for hours on Thursday.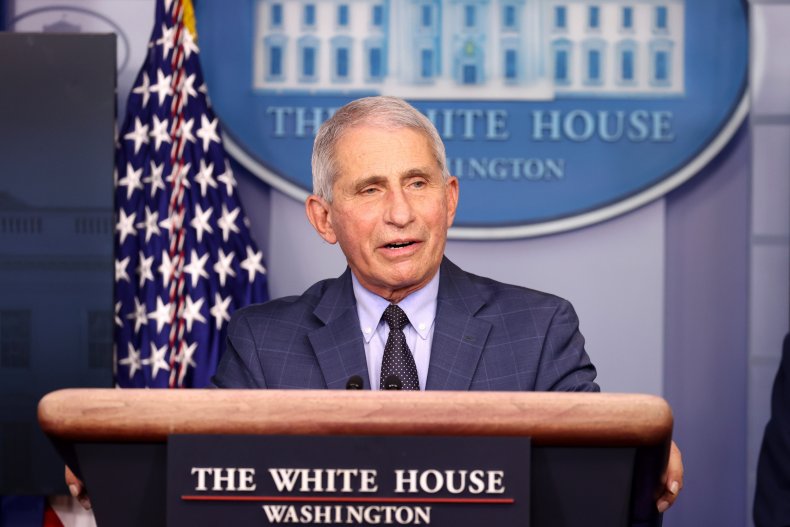 Dr. Fauci worked on the AIDS/HIV, H1N1, MERS and Ebola pandemics in the past, but this year's pandemic made him a household name. He has become a guiding light these past nine months, and will be part of President-elect Biden's administration, as a chief medical advisor.
When it comes to celebrating his latest milestone birthday, Dr. Fauci told the Washington Post that instead of making the traditional Italian dish timpano with his daughters while visiting his sister in Virginia, he will instead be spending the occasion (and subsequent holiday) with his wife, Christine Grady, at their home in D.C. (He reportedly made this year's timpano several days ago, in the company of a documentary crew, and his daughters watched from separate locations.)
Dr. Fauci also received the Moderna coronavirus vaccine earlier this week—another milestone that's worth mentioning.
With that, we'll join the many people online, and the first responders in that heartwarming video up above, in saying happy birthday, Dr. Fauci.