Watch This Country Singer Serenade 'The Voice' Coaches During Blind Auditions Week 2
If there's one thing American viewers love on The Voice, it's a country singer.
Since the show's 2011 debut, more country singers have gone on to win the NBC singing competition than singers from any other genre. Five of them, as well as Season 18's classic rocker Todd Tilghman, made it to the winner's circle thanks to Blake Shelton's coaching. Now there's a new country artist hoping to woo Shelton and fellow coaches John Legend, Gwen Stefani and Kelly Clarkson, along with the rest of America on the 19th season of the show.
Set to hit the stage during the second week of blind auditions on Tuesday, Tanner Gomes is the latest country star-in-the-making to appear on The Voice. In a sneak peek of episode 4, the Yuma, Arizona, native serenades the coaches with a pristine cover of Dustin Lynch's hit song, "Cowboys and Angels."
He gets a chair turn from Clarkson right away, but before he finishes his final powerful note, Stefani and Legend bang their red buzzers in favor of the country crooner, too. That's nearly a four-chair turn, and everyone—including Gomes' family, who appears on the virtual screen behind the coaches—can't believe Shelton didn't turn his chair for the singer.
"Right now's a good time to ask your boyfriend why he didn't turn around," Clarkson says to Stefani in the clip.
Yeah, what gives, Shelton?
"I think you're a really great singer. I kinda already have a lot of country artists on my team, and the best thing for you is to be on a team that has no other country artist," Shelton explains.
It's clear where Shelton is going with his team encouragement. He tells Gomes that there's already a country singer on Clarkson's team, 24-year-old Madeline Consoer, who Clarkson notes is nothing like Gomes at all.
"I don't think there are any country artists on John or Gwen's teams," Shelton continues. "It's an interesting fact that you need to know about. I stayed out of it because I'm looking out for you."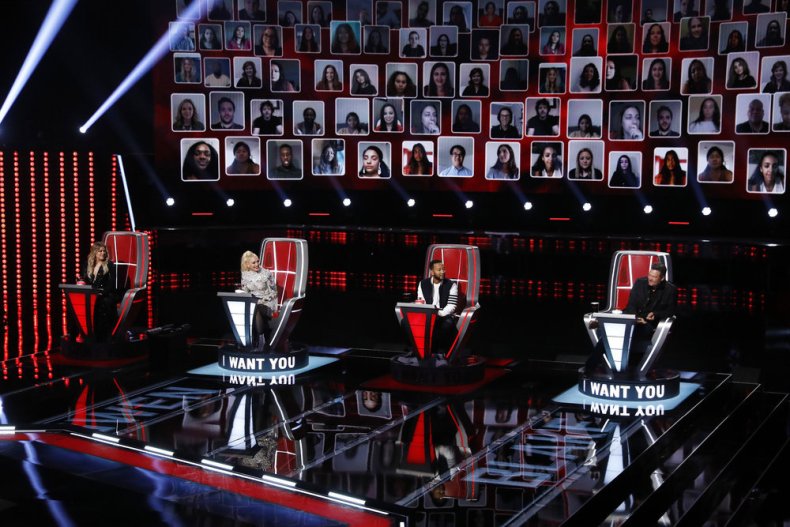 For what it's worth, each of the coaches to turn around for Gomes has an impressive resumé and can likely lead him to The Voice glory regardless of what genre of music he's singing. But Clarkson reminds the contestant that she "grew up on country." Stefani quips that she has a "number one on country"—i.e. her and Shelton's chart-topping duet, "Nobody But You."
Then the former No Doubt frontwoman lays it on thick: "I am a ska girl from Orange County, California, but the first concert I ever went to was an Amy Lou Harris concert and then my boyfriend. So in the last five years, I've learned so much about country music. I feel like it's this new chapter of my life, and I think I could help you."
Clarkson argues that she turned for Gomes "lightyears before the others." No hard sell from Legend—the soul singer just loves Gomes' voice and would be honored to work with him. Plus, he's a big fan of Gomes' cowboy hat.
Gomes could probably use a cowboy and an angel to help him with this big choice.
The Voice airs on NBC on Mondays and Tuesdays at 8 p.m. ET.