Watch This Disabled Dog Blissfully Get in Her Wheelchair for A Walk
This dog could not be more excited about putting on her wheelchair to go on a walk. On Thursday, one Reddit user shared a video of a disabled dog getting in her wheelchair. "This good boy so happy when he gets in his wheelchair to go for a walkie," the clip was titled. The dog in the clip, who is a female named Pigeon, could not stop smiling as her owner placed her in her specially designed wheelchair.
In the 55-second clip, Pigeon the pitbull—whose back legs don't work—excitedly scoots to her wheelchair when she first sees it. Her owner then lifts her up to strap her into the wheelchair, which will better support the back half of her body. Once she's set and ready to go, Pigeon jumps and scurries across the floor in her special wheelchair. The dog's happiness is contagious, and just like the good girl, we can't stop smiling.
The internet loved the heartwarming clip of Pigeon, and couldn't stop gushing over her. "I love this so much! All dogs need love!" one Redditor wrote. "That's why I don't trust people who don't like dogs lol," another joked. "Soo happy and cute lol. I don't think I'd ever stop giving this dog treats if it were mine," a third chimed in.
"I feel very privileged to have met Pige twice while working downtown," one user wrote on Instagram. "She just loved me when she usually doesn't like men. I think she knew I thought she was perfect."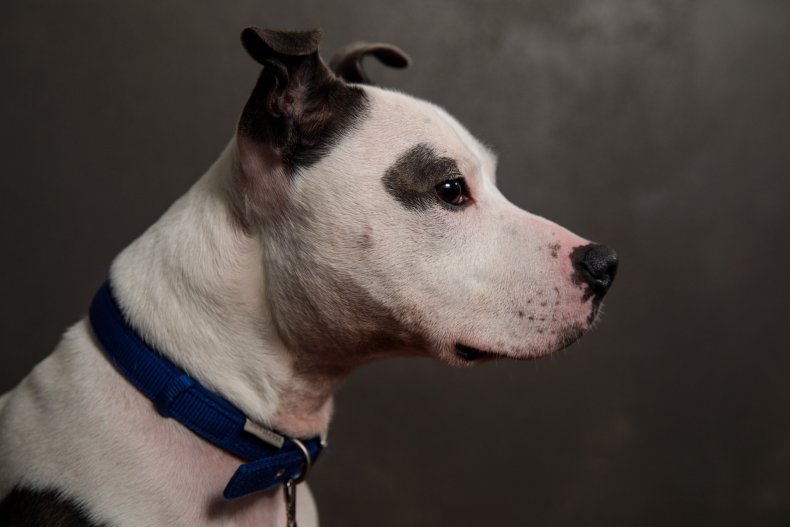 Users also applauded the dog's owner for their commitment to taking in a disabled dog. "Props to the owner, so much extra work goes into caring for a disabled dog. I'm glad he found such a loving home," someone gushed.
"Yeah! Probably has to assist the dog with going to the toilet every time too. I'm so glad he's been given a chance at life! Not everyone is cut out for that kind of constant care," another added.
"I have a special needs pupper, and let me tell you," one Redditor said, "They know they're getting extra, good care, and the love and trust they show you for it is beyond any I have received from an animal. And the best part is that you end up realizing that as lucky as they are to have a good home, you're really the lucky one."
We're not crying, you're crying.
Newsweek reached out to Pigeon for comment and did not hear back at the time of publication.