Watch This Mother-Daughter Trio Score a 4-Chair Turn in 'The Voice' Season 19 Sneak Peek
It's getting down to the wire for blind auditions on Season 19 of The Voice. Coaches Blake Shelton, John Legend, Gwen Stefani and Kelly Clarkson only have a few slots left on their teams, and they'll try to fill them during the third week of auditions. That, of course, won't come without a little bit of bickering among the coaches, especially when they get a taste of The Voice's first mother-daughter trio, Worth the Wait, during Monday night's episode.
The group—comprised of an Alabama mom and her two daughters—knocked their cover of Linda Ronstadt's "When Will I Be Loved" out of the park, leaving all four of the coaches vying to add them to their teams. And while the country trio may seem like a shoe-in for Shelton's team—especially when they start speaking with their heavy southern accents—Stefani, Clarkson and Legend are eager to convince them not to choose The Voice's resident country king.
"I also was in a band with my brother for nine years. We wrote 'Don't Speak' together. We wrote a bunch of songs together, so I know the family thing as well," Stefani says, before reminding the ladies that she's currently topping the country charts.
"Did you see that I was on the country chart? I just wondered if you saw that? Did you see that? Twice, number one," Stefani says.
Then Stefani pulls out the ultimate trump card: a video message from none other than award-winning singer and "Gwen Stefani Supporter," Trace Adkins.
"So clearly you're torn. I believe that every person is allotted a certain amount of good luck in his or her life, and Blake, as evidenced by his girlfriend, has used his up completely. I'm not saying, I'm just saying," Adkins says.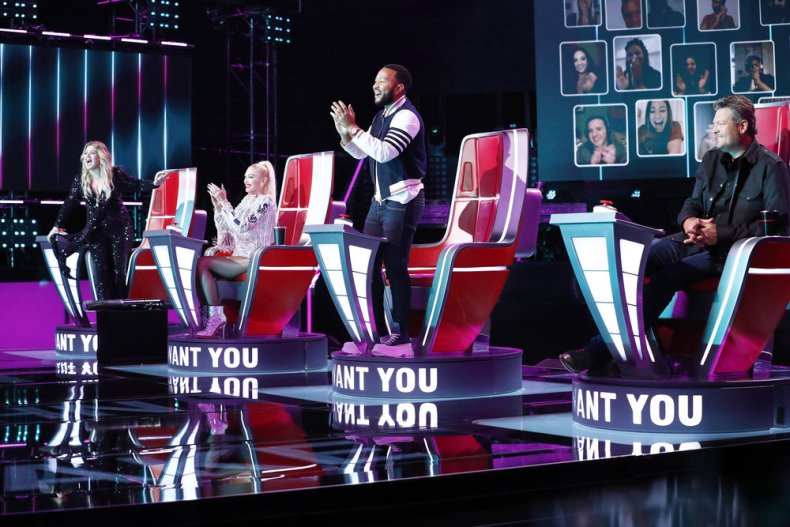 Shelton, astonished that his new fiancée would enlist his buddy Adkins to help drag his name through the mud, admits that he does have a lot of country artists on his team. However, he notes that he's been waiting just for them to fill the final spot.
"Hello, Worth the Wait. I actually think that's the perfect name. I have one spot left on my team, and I've been sitting here waiting for whatever that's gonna be, and it's been worth the wait, right? In order to handle this right, especially hearing that you're country—by the way, there's not much you could have done about that anyway, because I heard you speaking," Shelton teases.
Meanwhile, Clarkson claims she is the best coach to push them to their full musical potential.
"I really enjoyed it. I love that song. I love the harmonies. We don't have anyone like y'all on the show. I will be honest with you—there are parts where it's not completely in sync. You have to be so dead-on because people will not let anything slide. So if you pick me as your coach, I will definitely push you like a choir director," Clarkson says.
Although Legend doesn't have much experience in the country genre, he advises Worth the Wait not to completely count him out.
"I am not an expert on country music, of course, but I did grow up singing with my family. I did grow up in the church as a choir director. I did direct an a cappella group. So no one in this group has spent more time thinking about how people should harmonize together, than me. You all are one of our very few four-chair turns during this season, so your should be proud of yourselves," Legend says. "I would love to work with you."
The Voice airs on NBC on Monday and Tuesday nights at 8 p.m. ET.