Watch This Woman Grill and Eat a Giant Sunflower Head Like It's Corn on the Cob
YouTuber Emmy Made in Japan recently shared a cooking recipe about how she grilled a giant sunflower head. Emmy then ate the cooked flower head as if she were chewing on a corn on the cob.
On Saturday, Emmy picked out a four-month-old sunflower from her garden. She chopped off the enormous sunflower head from the top of the stalk. After brushing the flowers off, the host poured olive oil and spread some salt over the bare head. Before roasting the sunflower head on a hot grill for about five minutes, she sprinkled sun-dried tomatoes, black pepper, and shredded basil onto it.
After picking up the grilled head with both hands, Emmy then took a few bites off the side as if she were eating corn on the cob. The YouTube host even described the taste of the roasted sunflower head as being similar to maize.
"The experience is kind of like corn. It doesn't fight you as much as corn does. When you have corn, you have to really bite into it, to shave it off, till the kernels come off. You bite into this, the kernels fall right into your mouth. It's very fibrous." said Emmy.
"I was expecting it to be more nutty. But they're actually more similar to corn. Except they're not sweet. It reminds me of field corn, the type of corn they grow for livestock. They've got very big kernels that aren't that sweet or flavorful. That's what it's like!" she added.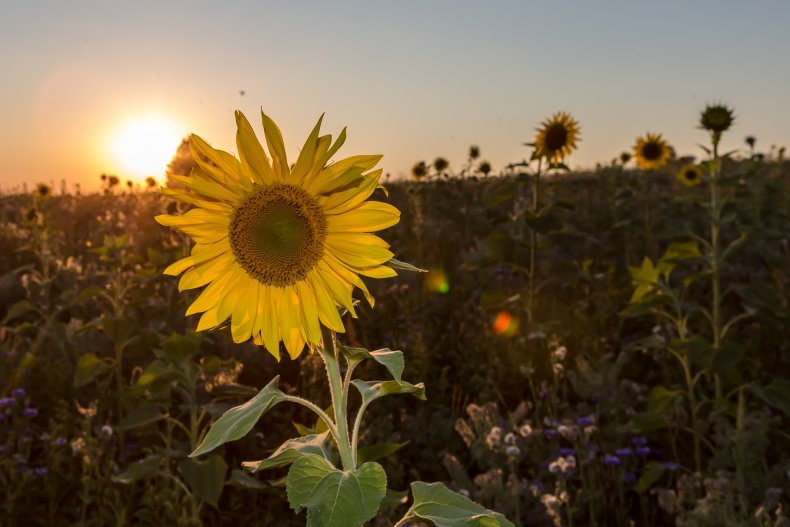 For a much more "pleasant experience," Emmy used a fork to rake out the sunflower seeds. The sunflower head is difficult to eat because the giant shape is flat and tricky to get your teeth into.
If you thought eating a giant sunflower head was weird, this isn't the only wild thing the Youtuber has done on her video channel. She managed to top herself by eating a salad made of sea snails. About three months ago, Emmy mixed Somen noodles and sesame seeds with her snail salad.
Though snails may look gross and icky on the outside, Emmy ate one of them and described the taste as "delicious." She said, "They have a chewy texture. But they're still tender. And they're seasoned. They're a little bit sweet."
Last year, Emmy baked a whole pie made out of vinegar. Even though she added lemon extract, she could still taste the sourness from the half cup of vinegar.
She mentioned the vinegar tasted "funky" and "zingy." She added, "it's sour enough. Sour as a lemon but it doesn't have that ripe sourness."