Watch: Three Boys Fight Off Snake Trying to Kill Their Pet Dog
Three boys were captured on video heroically springing to action after a large snake wrapped itself around their dog. The video, which was shared on Instagram and first appeared on the Daily Mail's site, showed the dog whimpering as the snake wrapped itself around its lower body and hind legs.
An older boy can be seen trying to pin the huge snake's head to the grass as the two younger boys attempt to loosen its grip on their dog. The boys hurled leaves at the snake as the older boy used what appeared to be a metal table leg to gain control of its head.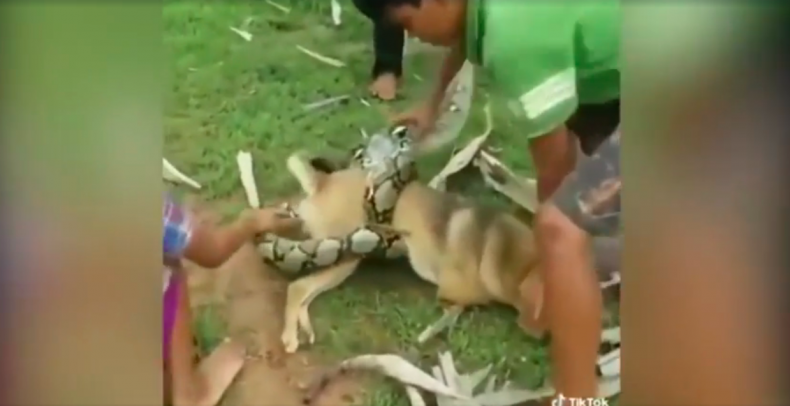 The boys then teamed up to unwrap the snake from the dog's body by pulling the reptile in opposite directions. They managed to weaken the snake's hold long enough to allow the dog to whimper and run free.
The dog appeared calm during the ordeal and did not appear to be hurt by the snake. At the end of the video, the older boy held the snake by its head. It was unclear what happened to the snake or where the video was filmed.
In September, a father in Cary, North Carolina, killed a copperhead snake at his home after it attacked and bit the family's pet dog. Brian Lewis told WNCN that he was working from home when the snake attacked his dog Winnie.
"I heard Winnie barking, and suddenly I heard silence," he said. "And that is kinda weird. I go outside and my little dog is in the garage, and she has her paw up and she is looking pathetic."
Lewis said the snake left two small bite marks on Winnie's paw and some blood. The concerned dog owner took Winnie to VCA Cornerstone Animal Hospital, where the dog was treated.
Veterinarians at the animal hospital told Lewis they had seen a lot of snake attacks on dogs, WNCN reported. The vets said storms like Hurricane Florence can disturb areas where snakes typically live and drive them to residential areas.
Lewis said he returned home, found the copperhead in his backyard and hacked it into "about a dozen pieces before I regained my composure." Winnie was treated with antibiotics and other medicine and was better in a few days, the station said.