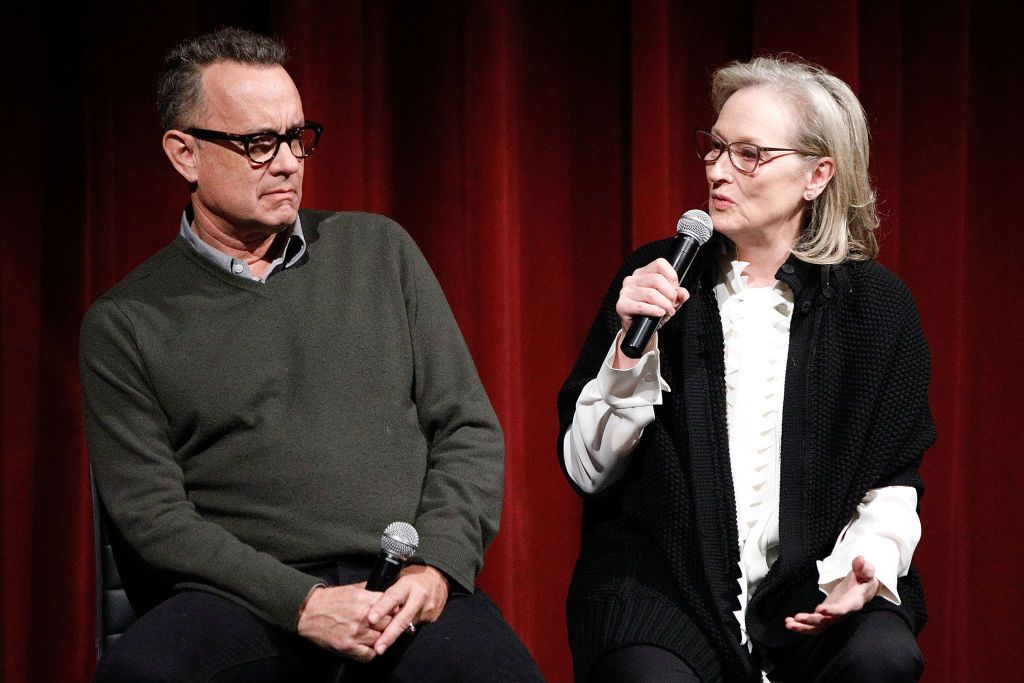 Have you ever wondered how Tom Hanks would fare as Miranda Priestly in The Devil Wears Prada? Or what he would do with the role of Margaret Thatcher in The Iron Lady? Have you ever imagined how Meryl Streep would tackle the titular part in Forrest Gump or what Woody from Toy Story would sound like in her voice?
No? We hadn't either. But Ellen DeGeneres did, and her curiosity bequeathed a gift to fans of both prolific actors.
The stars made a joint appearance on The Ellen Show on Tuesday morning, just three days ahead of the wide release of their movie The Post on Friday, January 12 (it had a limited release on December 22). They talked about their film, of course, and what they think about the possibility of Oprah Winfrey running for president (Streep asked where she should send her campaign donation) and how Hanks came to carry a tray of martinis at Sunday's Golden Globes.
At one point, DeGeneres asked them about their favorite roles. Streep mentioned films including Sully, Charlie Wilson's War and Forrest Gump. Hanks cited The Devil Wears Prada, Sophie's Choice, The French Lieutenant's Woman, Out of Africa (prompted by DeGeneres) and The Iron Lady.
Little did they know (or did they?) that DeGeneres would then ask them to perform lines from some of those famous parts, either mimicking their colleague or demonstrating how they might have played part. DeGeneres thoughtfully provided props. (Woody's brown hat for Streep, a Thatcher-style bouffant wig for for Hanks, who asked if he could keep it.)
"Because you're both brilliant actors, thespians, I would like to challenge you," she said, and proceeded to hand Streep and Hanks cards with memorable lines, including Forrest Gump's, "My mama always said life was like a box of chocolates, you never know what you're gonna get" and Miranda Priestly's, "By all means, move at a glacial pace, you know how that thrills me."
Streep, who came wearing a sweater embroidered with the words "Time's Up" (she gifted DeGeneres and Hanks with their own), summed up The Post—her first time acting opposite Hanks—concisely: "Our film is about standing up, and the cost of it, and the importance of it."