Watch Touching Moment 'Supportive' Grandpa Updates Trans Grandson's Photo
Heartwarming footage of a grandfather updating his family photos has delighted the internet this week after it was viewed more than 1 million times.
On Wednesday, Nicolás Cazorla Fernández shared the video taken while he was visiting his family in Spain. On a trip back from Charleston, South Carolina, where he attends college, Cazorla Fernández was asked by his grandfather for a new picture to update the old one in his home.
As a transgender man, Cazorla Fernández began sharing his transition on TikTok recently, while receiving his gender confirmation surgery.
He told Newsweek: "A video of me acting dumb in the hospital with my dad went viral and I realized that a lot of people in the trans community wanted to see more about what surgery entails. So I continued to post and every video I posted started blowing up."
Now with over 9,600 followers, his videos are helping others in the trans community feel supported and educating others—with a little bit of fun along the way. This week, the video of Cazorla Fernández and his grandfather captured attention as his "Abuelo" (grandfather) was filmed beaming while he updated his photo frame with a new picture of his grandson.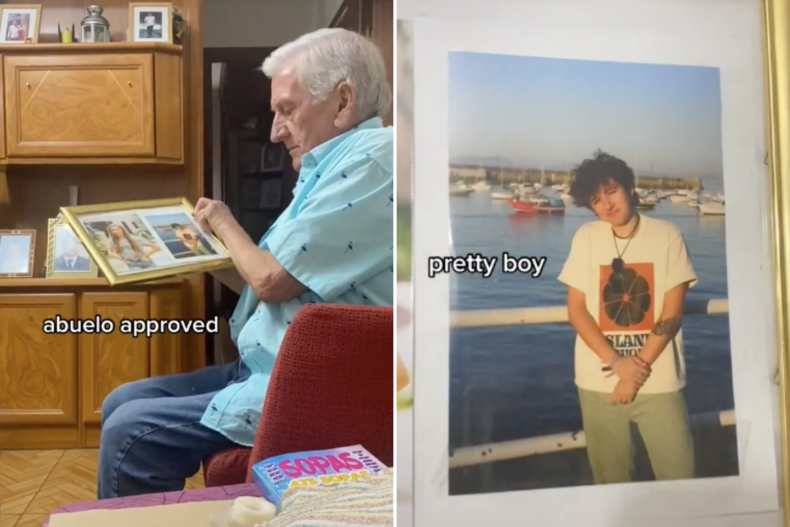 "I posted this one specifically because a lot of trans youth are scared about what their family members will think or do when they come out," he explained: "I was certainly worried about that too. I posted the video to show that it isn't a generational issue—that being old isn't an excuse to be unsupportive of family you are supposed to love."
The UCLA Williams Institute reported in June 2022 that 1.6 million people aged 13 years and older identify as transgender in the U.S.
Eighteen percent of those who identify as transgender are aged 13 to 17, with youth significantly more likely to identify as transgender (1.4 percent) than adults aged 65 or older (0.3 percent).
In an earlier study, researchers at UCLA gathered information on suicidal thoughts and attempts among transgender adults. A huge 98 percent of respondents who had experienced four instances of discrimination and violence in the past year thought about suicide that year, while 11 percent of respondents who had been rejected from their families reported past-year suicide attempts.
Cazorla Fernández explained that his family, and particularly his grandfather, was supportive from the very first moment: "It's reasonable that people mess up your pronouns or accidentally dead name you (when someone uses a person's birth name when they have changed their name as part of their gender transition) when you come out but he didn't have any issue. He has never flinched once."
When his grandfather asked for a new photograph to put up with those of the other grandchildren, Cazorla Fernández said: "I was shook, I smiled like an idiot."
TikTok users were delighted by the story, and headed to the comments to share their joy. One user wrote: "The smile on his face says everything! So happy for you," while another reply said: "We love Abuelo, absolute legend."
"His smile is the sweetest thing, grandpa setting a standard for the rest," said another TikToker.
Another reply said: "I'm not crying y'all are," while another commenter wrote: "This makes my heart melt."
Cazorla Fernández was thrilled that the video spoke to people while setting such a great example: "As an older person he is setting an example for the rest of the world. It means a lot to me," he said: "Not only is he doing that, but he also writes notes with my name all over the house so that my grandma with Alzheimer's is reminded for when she forgets.
"They are both so supportive and I am very lucky to have them both in my life."