A cow trapped at the bottom of a ravine after a fall was airlifted to safety by firefighters.
Although apparently unhurt, the cow had been stuck for several days before its owner called emergency services in Meduno, a commune in the province of Pordenone, Italy.
Firefighters and rescuers from the Alpine River Spelunking team located the cow on Monday after battling their way through dense vegetation.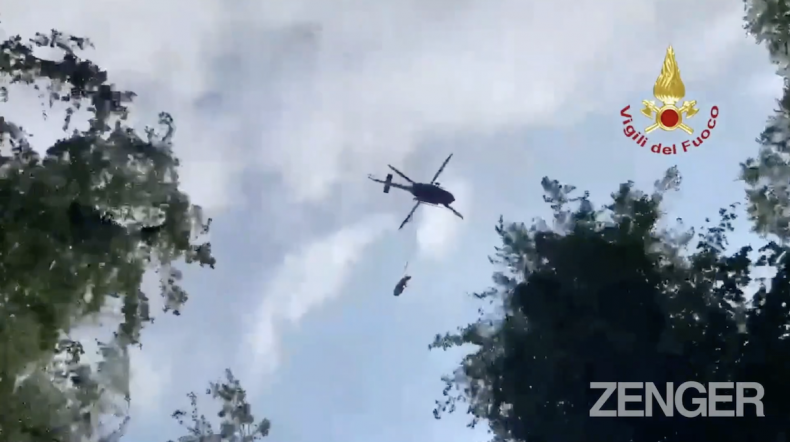 They also removed fallen rocks that had trapped the cow and stopped it from finding its own way out.
Even when freed, the cow would not allow firefighters to lead it along an escape path and a decision was made to airlift it out of the ravine.
Video footage of the rescue shows the sedated cow being strapped into a harness complete with a blindfold.
The images first show at least four rescuers securing the cow with ropes, while the bovine has a cloth over its eyes to prevent it from panicking.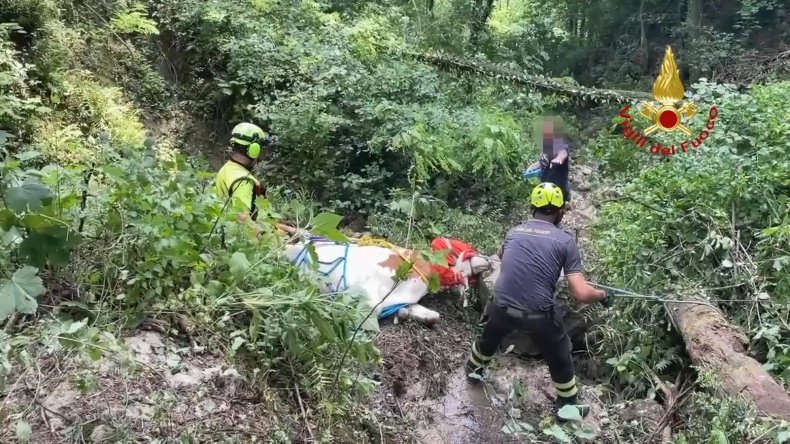 The images then show at least eight people securing a harness around the cow.
A Drago 71 rescue helicopter belonging to the fire department then lifts the cow some 175 feet into the air as its legs trash around while it dangles from a cable.
The cow can be seen slowly ascending into the air, lifted up by the helicopter by the harness attached around its body, and still with the cover over its eyes, while the trees around it sway in the rotor turbulence created by the helicopter above.
It can be seen nervously pawing at the air, as if attempting to gain purchase on something solid. The helicopter can be seen moving slowly away from the rescue area with the cow dangling beneath it as the footage ends.
The helicopter reportedly landed back at the top of the ravine where the cow's grateful owner was waiting.
The fire rescue service said in a statement that the images show the "intervention by the Fire Brigade of Maniago and the river alpine rescue team of the power plant in Borgo San Martino in Meduno to recover a cow that had fallen and been missing for a few days.
"While a veterinarian reached the cow's location to administer a sedative, the crew of the Drago 71 helicopter of the Venice Flight Department was activated and provided for the recovery and transport of the cow to a safe area."
This story was provided to Newsweek by Zenger News.