Watch: Treesily Found: Russian Unit Hiding In Trees Wiped Out In Artillery Strike
A Russian military unit was apparently destroyed by Ukrainian artillery after being discovered hiding in the only cover for miles.
The Russian armor and troops had been holed up on a line of trees surrounded by fields on all sides.
So when a Ukrainian drone came looking for targets, the Russians looked to be sitting ducks.
Alleged video footage of the strike shows a furious fusillade hammered down on the line of vehicles and men within seconds.
At one point a vehicle blew itself to pieces as the ammunition it was carrying apparently exploded.
The 28th Mechanized Brigade, named after the Knights of the First Winter Campaign, a formation of the Ukrainian Ground Forces, boasted that their "eyes are everywhere" and that they are able to take out the enemy from any position.
The Ukrainian brigade stated on May 11: "Trying to hide from our knights, the occupiers forgot two truths: our eyes are everywhere, and our weapons will get them even from the ground."
Russian troops invaded Ukraine on February 24 in what the Kremlin is calling a "special military operation." Wednesday marked the 77th day of the campaign.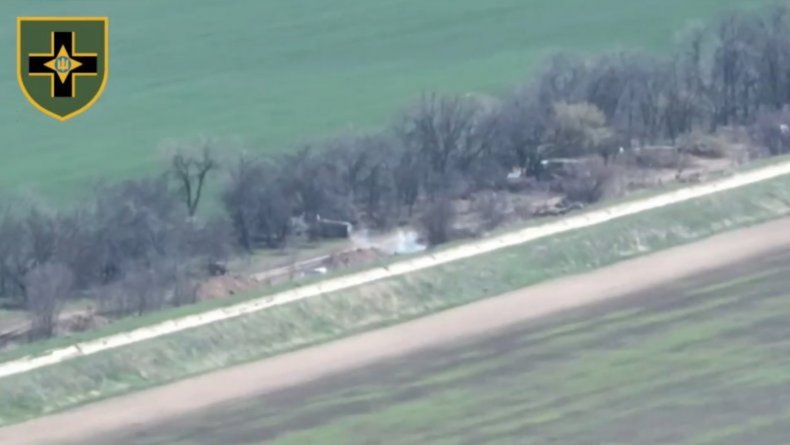 From February 24 to May 11, the total combat losses of Russian troops stand at around 26,350 personnel, according to the General Staff of the Armed Forces of Ukraine.
The Ukrainian military also claims that Russia has lost 1,187 tanks, 2,856 armored fighting vehicles, 528 artillery systems, 185 multiple launch rocket systems, 87 anti-aircraft systems, 199 warplanes, 160 helicopters, 1,997 motor vehicles and fuel tankers, 12 vessels, 390 unmanned aerial vehicles, 41 units of special equipment and 94 cruise missiles.
The latest statistics come as the U.S. House of Representatives agreed to President Joe Biden's request for extra cash for Ukraine. He said that without the $40 billion aid package the fund would run dry, and it was approved Tuesday to help Ukraine fight back against Russia in what is now a three-month-old invasion.
Legislators approved the Ukraine bill by 368 votes to 57 and the cash will be used to give military and economic assistance, as well as funding the work of regional allies. The bill now heads to the Senate which is expected to also quickly react before the existing money runs out later this month.
This week, Vladimir Putin addressed a huge military parade on Red Square in Moscow to commemorate the defeat of Nazi Germany at the hands of the Soviet Union in World War II.
The Russian President used his speech to claim that Russian troops in eastern Ukraine were "defending the motherland." He also said that the "special military operation" in Ukraine was necessary and was provoked by the West.
President Volodymyr Zelenskyy has warned that the Russian blockade of Ukraine's Black Sea ports threatens global food supplies.
This story was provided to Newsweek by Zenger News.