Donald Trump vs. Joe Biden: How to Watch Live Stream As 2020 Rivals Give Dueling Speeches in Iowa
President Donald Trump and former Vice President Joe Biden will be giving dueling speeches in the same state for the first time on the 2020 campaign trail on Tuesday as both candidates visit Iowa to connect with the state's swing voters.
Biden is scheduled to speak at three different events in eastern Iowa, while Trump will make two stops in the western part of the state. The two men are unlikely to officially cross paths but their rivalry is likely to shadow their appearances.
The former vice president will make stops in Ottumwa, Mount Pleasant and Davenport. In Davenport, thelast stop of the day, Biden will be highly critical of Trump in his speech, according to prepared remarks released by his campaign. The transcript shows Biden mentioning the president by name at least 44 times.
"He thinks he's being tough," Biden is expected to say about Trump's trade war with China. "Well, it's easy to be tough when someone else is feeling the pain." In his remarks, Biden will also say that Trump is an "existential threat" to the country.
How to watch Biden:
Biden's speech in Davenport can be watched live on the C-SPAN website beginning at 4:15 p.m. eastern time.
How to watch Trump:
President Trump's first campaign stop in the state will take place at a renewable energy center in Council Bluffs. His speech will be aired on C-SPAN starting at 3:45 p.m. eastern time.
Trump will then fly to central Des Moines for an Iowa Republican Party dinner and fundraiser. His speech at the event will be live-streamed by C-SPAN at 7:30 p.m. eastern time.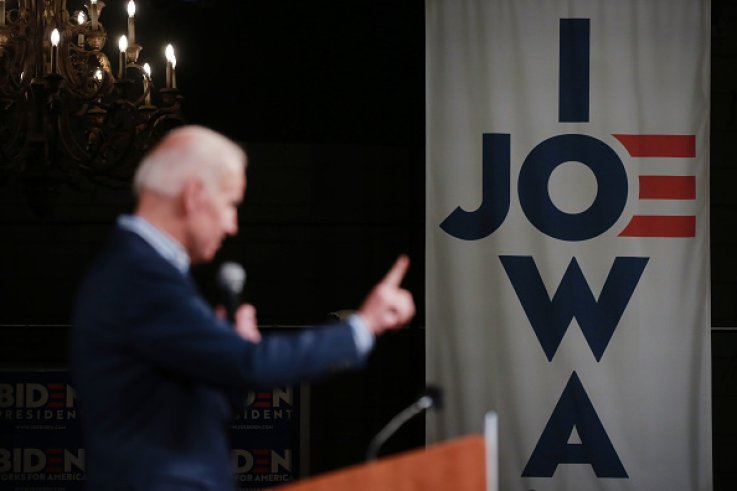 A recent poll of Iowa voters conducted by CNN/Mediacom/Des Moines Register showed Biden to be leading the crowded Democratic primary field. The former vice president had 24 percent support from likely Democratic caucus-goers, while the next closest candidate, Bernie Sanders, had just 16 percent support.
Biden has often led Trump in national polling and before even entering the 2020 primary field Iowa polling showed Biden ahead of the president by six points, according to Real Clear Politics. Since entering the race, Biden has become Trump's biggest target. Trump, 73, has taken to attacking Biden, 76, on his age, giving him the nickname "Sleepy Joe."
According to a report published by The New York Times on Monday evening, aides believed the president needed a strong opponent to stay interested in his 2020 reelection campaign. That opponent, at least for right now, is Biden. Trump reportedly told his campaign to deny that internal polling showed him behind Biden in battleground states.
One staffer who worked on Trump's 2016 campaign, Sam Nunberg,told the Times that the president "views Biden as a failed vice president who's going to be savaged by the left in the primary to the point of unelectability."
On Tuesday morning, hours ahead of their appearances in Iowa, the White House fired back at Biden's prepared remarks. Press Secretary Sarah Sanders said that the "idea that [Biden] would say that the president poses any type of threat is truly laughable considering he was part of the administration that allowed Russia to interfere with our election."
Donald Trump vs. Joe Biden: How to Watch Live Stream As 2020 Rivals Give Dueling Speeches in Iowa | U.S.