Watch: Trump Epic ASEAN Handshake Line Fail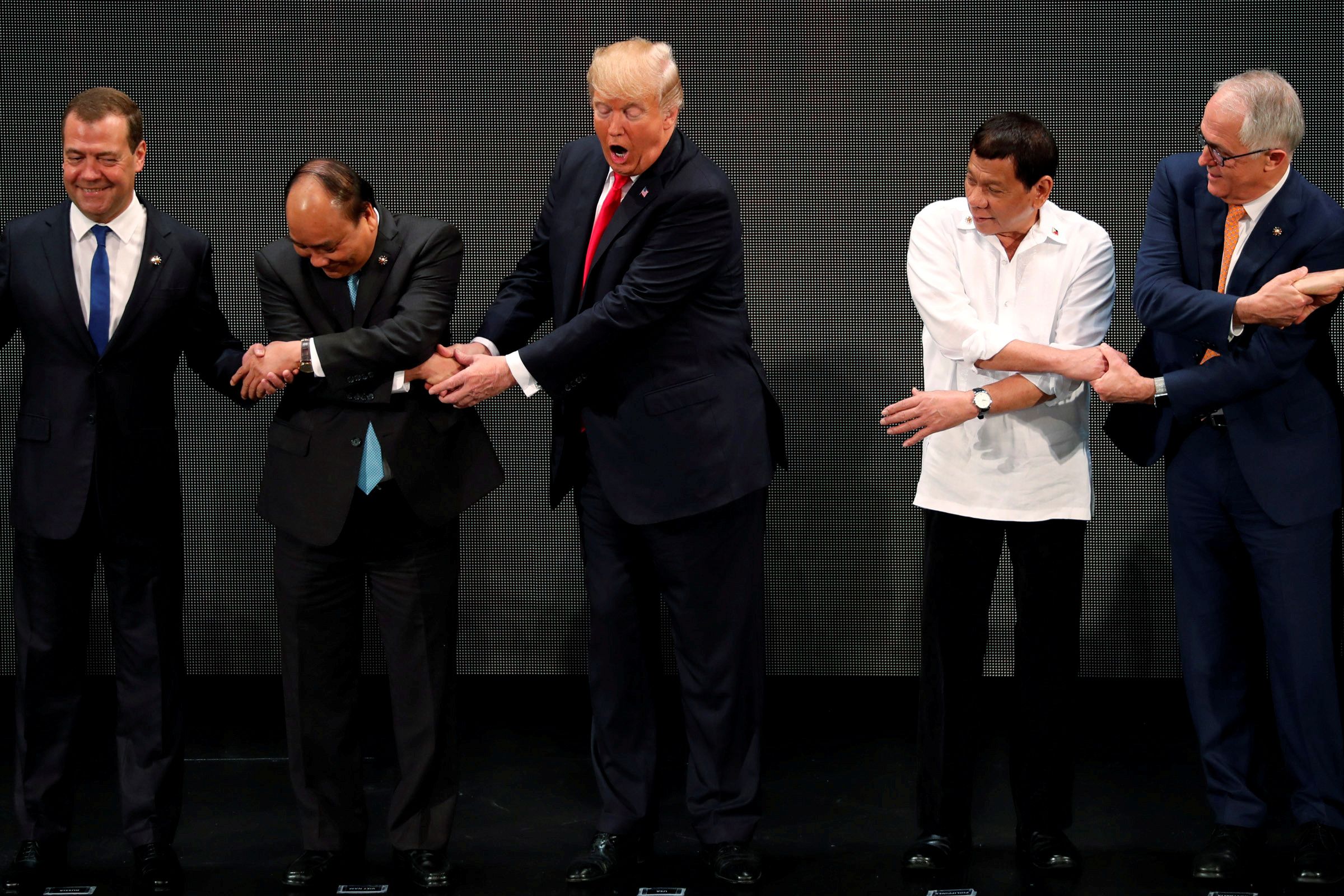 President Donald Trump struggled to understand the mechanics behind the Association of Southeast Asian Nations (ASEAN) Summit's signature handshake at a group photo on Monday.
After making many a headline for his aggressive handshake style, Trump finally met a hand—two hands, in fact—he couldn't quite shake.
The ASEAN handshake style involves country representatives lining up, each locking their right hand in the left hand of the person standing on their left, forming a sort of human chain in a visual display of unity and cooperation—but apparently no one informed Trump.
The president goes for a traditional handshake, grabbing Vietnamese Prime Minister Nguyen Xuan Phuc's right hand, who is standing on his right, while Philippine President and summit host Rodrigo Duterte's left hand remained hanging.
Trump quickly realized his mistake and smiled as he stretched his right hand to awkwardly grab and shake Duterte's.
The president's attendance at the ASEAN summit represents the final leg of the five-nation tour of Asia that took Trump to Japan, South Korea, China, Vietnam and the Philippines.
His presence at the summit, taking place in the Philippines' capital, Manila, was met with protesters who burned an effigy of Trump featuring four swastika-style rotating arms and a cowering Duterte dubbed "the Fascist spinner." Demonstrators criticized the president's stance on North Korea and his support "for regimes that violate human rights."
In their first formal meeting, Trump and Duterte exchanged pleasantries and commended their alliance. The two leaders are often compared to each other for their bombastic rhetorical style. Their affinity was on display during the meeting, when the Philippine president branded reporters "spies" while Trump laughed.
Duterte also serenaded Trump at a gala dinner in Manila on Sunday with a Filipino love song beginning with the verses "You are the light of my world, a half of this heart of mine," as Reuters reported.
Trump invited Duterte to visit the White House during a friendly phone call in April—an invitation the Filipino president never formally accepted, publicly vowing instead to never visit "lousy" America, where human rights organizations and members of Congress have criticized his human rights record. There have been thousands of extrajudicial killings in the Philippines as part of Duterte's so-called war on drugs.
White House spokesperson Sarah Huckabee Sanders told the press the two leaders focused their discussion on issues including terrorism, illegal drugs and trade, but human rights only came up "briefly."