Watch Donald Trump Rallies Live Stream in Ohio, Indiana and Missouri Ahead of 2018 Midterm Elections
Donald Trump will host three rallies over six hours in the Midwest Monday afternoon and evening, as the president tries to galvanize his political base ahead of Tuesday's critical midterms.
Trump will take to Cleveland's XI Center, then head west to Fort Wayne, Indiana's Allen County War Memorial Coliseum and end at Cape Girardeau, Missouri's Show Me Center.
The Cleveland rally is scheduled to begin at 3 p.m. EST, the Fort Wayne rally at 6:30 p.m. EST and the Cape Girardeau rally at 10 p.m. EST.
A live stream of each rally can be viewed on the president's Facebook page. Cable news networks such as CNN and Fox News could also show the rallies, but some major networks have reduced coverage of these events.
The closing rally will also include appearances from Fox News host Sean Hannity, radio host Rush Limbaugh—who was born in Cape Girardeau—and country music singer Lee Greenwood. Greenwood joined Trump at his rally in Chattanooga, Tennessee, Sunday evening, while Hannity and Limbaugh have long backed Trump.
The president's rallies have led to significant controversy over how Trump has ginned up his base. He has suggested violence could occur if the GOP loses control of the House, which many polls have predicted throughout the year. Trump has also disparaged Democratic candidates like Georgia's Stacey Abrams, who is running for governor against Secretary of State Brian Kemp.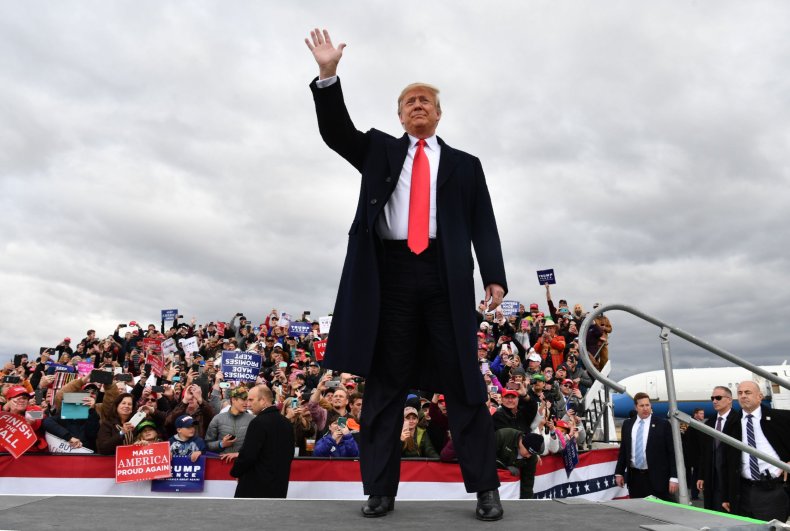 In the past few months, Trump has stepped up his travels on behalf of Republicans in tight races. In Ohio, Trump will stump for Representative Jim Renacci as he faces Senator Sherrod Brown. Three House seats in Ohio's 1st, 7th and 12th Districts are also battlegrounds for Republicans and Democrats, according to Ballotpedia.
In Indiana, Democratic Senator Joe Donnelly has squared off against Republican Mike Braun and Libertarian Lucy Brenton. A Fox News poll conducted late last month put Donnelly ahead by 7 points over Braun, but on average Donnelly maintains a slim 43.4 percent lead to Braun's 42.6 percent, according to Real Clear Politics.
Lastly, Trump will try to rev up support in Missouri for Republican Josh Hawley against Democratic Senator Claire McCaskill. An Emerson College poll conducted November 1 and 3 put Hawley ahead, 49 percent to 46 percent, but an NBC/Marist College poll released Monday put McCaskill up 50 percent to Hawley's 47 percent.
Most polls throughout the year have predicted that the Democrats will take back the House and that the GOP could gain an extra seat in the Senate. The Ohio, Indiana and Missouri races have been of particular interest, given Trump's victory in each state in 2016. Trump won Ohio by nearly 450,000 votes and Indiana and Missouri by over 500,000.