Video: Trump Tells Heckler at Indiana Rally He Has a 'Weak Voice': 'Out! Out! Go Home to Mommy!'
At a rally on the eve of the midterm elections, U.S. President Donald Trump was in typically brash form when confronted by protesters.
During his speech on Monday night in Fort Wayne, Indiana, he was about to introduce Senate candidate Mike Braun when he saw protesters clamoring. He asked if "they were good ones or bad ones."
Then to chants of "USA! USA!," Trump criticized the media covering the event for turning their cameras "like a pretzel" to capture the hecklers but not cutting away to show the size of his crowds.
"They never show the crowds," he claimed.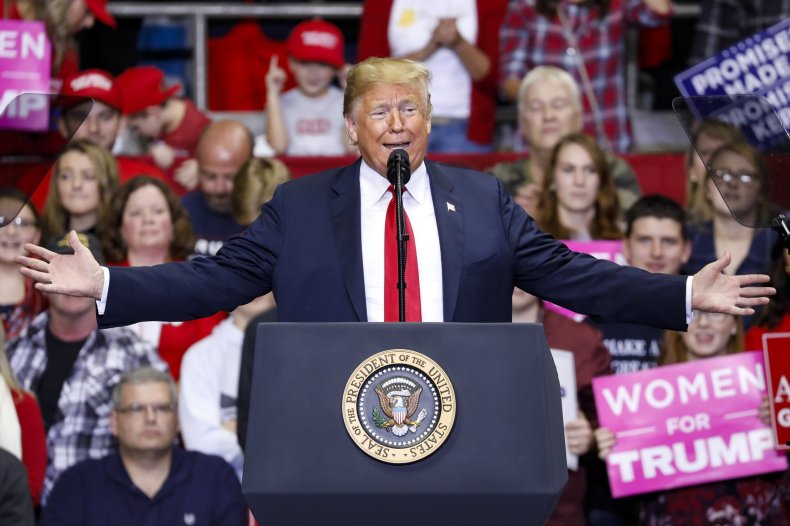 Later in his speech, he said that Republicans would ensure "strong borders and safe communities, no drugs and no caravans."
But when another protester voiced disapproval, Trump called for law enforcement and shouted: "Get him out of here please, get him out. Out! Go home to Mommy! Go home to Mommy!"
"You know the funny thing about this stuff though, there is a guy who is weak person with a weak voice," he added, to cheers from his supporters.
Later that day, when asked by ABC if he had any regrets about his two years in office, Trump said he wished his tone had been softer.
"I would like to have a much softer tone. I feel that to a certain extent I have no choice but maybe I do and maybe I could have been softer from that standpoint but I want to get things done."
He then claimed he had had "tremendous victories on trade" and on the military before returning to the topic of tone, voicing doubts that he would be "swamped" by his opposition if he adopted a softer tone.
"I'm not sure if I did that maybe I would be swamped, OK, you know swamped, meaning with the other side because I wouldn't say their tone has been so nice either. But that is something I say I would be working on," he told ABC.
The event in Indiana was one of three rallies Trump swept through on the final day of campaigning ahead of Tuesday's ballot, with turnout expected to be high.