Trump Presidential Turkey Pardon: How to Watch Thanksgiving White House Tradition
Days before millions of Americans sit down to enjoy a feast this Thanksgiving, two lucky turkeys will be spared a place on the dinner table after they receive an official pardon from President Donald Trump.
While an estimated 46 million turkeys will not be so lucky, according to animal advocacy organization Farm Sanctuary, the White House has a long history of poultry clemency that can be traced back to President Abraham Lincoln in 1863.
The White House Historical Association recorded the first "official turkey presentation" took place under President Harry Truman in 1947, but the word "pardon" was first used in a Washington Post article about President John F. Kennedy, who said of that year's turkey, "Let's keep him going."
The association also noted that it was first lady Patricia Nixon who sent the birds her husband received to the Oxon Hill Children's Farm in 1973, but it was under President George H.W. Bush in 1989 that the presidential turkey pardon became an official White House event.
For the 30th year since it became official, the Presidential Turkey Pardoning is expected to take place in the Rose Garden Tuesday at 2 p.m. EST. While specifics have not been announced, the event will be live streamed on the White House website and most likely broadcast on C-SPAN.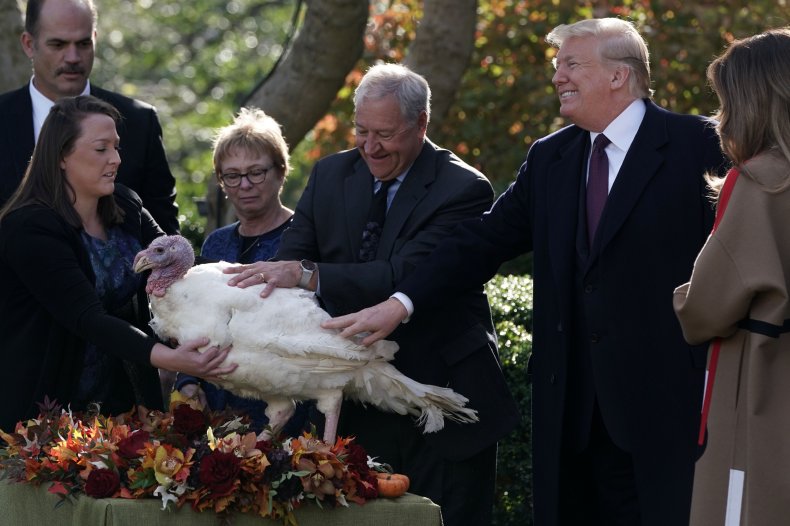 After receiving Trump's pardon, the two lucky birds will be sent to Gobblers Rest, located at Virginia Polytechnic Institute and State University, joining last year's national turkeys—named Peas and Carrots—who also reside at the farm. In fact, this will be the fourth year the pardoned turkeys will be sent to Gobbler's Rest, after Wishbone, Drumstick, Tater and Tot, who are now deceased.
"Virginia Tech has a long tradition of supporting the turkey industry through research and outreach, so it's fitting that the Presidential Turkeys becoming part of the Hokie Nation is a new tradition," said College of Agriculture and Life Sciences professor Rami Dalloul said in a press release.
With few opportunities for levity at the White House in recent months, Trump may wish to recall his good humor at his two previous pardoning ceremonies.
"That turkey is so lucky. I've never seen such a beautiful turkey," Trump joked about Peas in 2018. "Unfortunately, Carrots refused to concede and demanded a recount," he joked.
In 2017, Trump remarked that he couldn't overturn the pardons former President Barack Obama granted turkeys during his eight years in office. "I have been informed that Tater and Tot's pardons cannot under any circumstances be revoked. So, I'm not going to revoke them. Tater and Tot, you can rest easy."