Watch Two Seven-Foot Snakes Fight Over Female, Try to Pull Each Other Down
A fight between two carpet pythons was caught on camera by a snake wrangler in Australia. The video shows the two male snakes twisting together in combat, as they try to impress a female nearby.
The snake wrangler explains how the act of the snakes wrapping around each other "often gets mistaken by members of the public as mating", and while it happens during the breeding season, what is actually happening is that the snakes are wrestling to trying to pull each other down.
The snake wrangler, known as Tony, who works at the Gold Coast and Brisbane Snake Catcher, explains that: "They sit there and stand tall and try to pull each other down and try and make themselves look tough and then, one finally gets up and says, 'alright you win, you are stronger,'
"And then the suitor, the one that's still there, will get a chance to hang around and wait for the female. This can go on for minutes or days."
In the video, the snakes are Carpet pythons are estimated to be around seven feet long and weighing five or six kilos each, according to the snake wrangler, who says, "When you've got three-meter jobs that weigh ten kilos and they're doing this on your roof, you can imagine the noise. It gets pretty raucous and it goes on and on and on."
He says that snake fights will be a common sight over the next couple of weeks, though people will mistake the rivals for mates: "You'll see on all the Facebook pages, snakes twisted together and everyone going 'aw look, how cute, they're mating.'"
Tony explains that: "Mating is when they pull up next to each other and the males will rub up all over the female and it is literally almost sensual and they'll stay still.
"But when they get together and it's raucous and they're wrapping together and twisting and getting physical, that's combatting."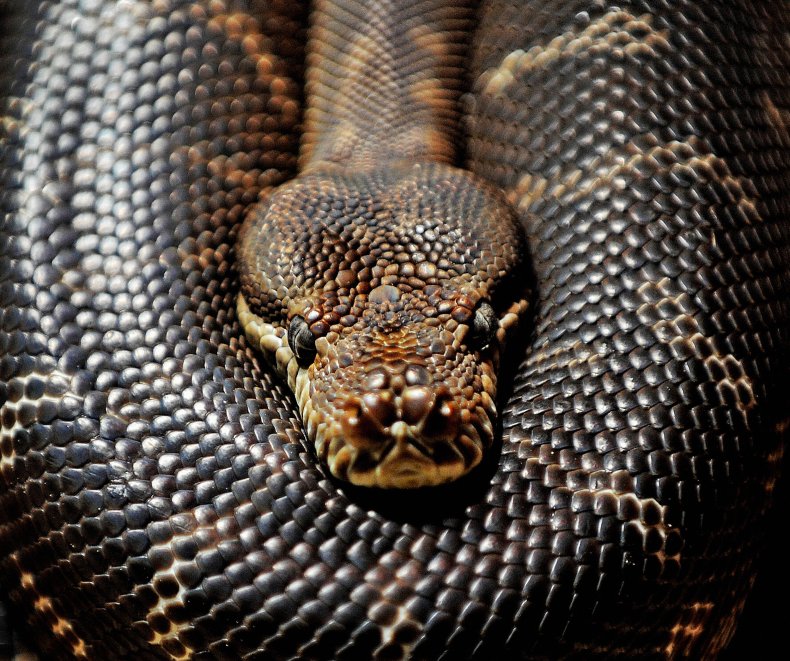 On Tuesday, Newsweek reported that two pythons crashed through the ceiling of a home in Queensland. The two coastal carpet pythons, that were estimated to weigh nearly 40 pounds combined, were thought to be fighting over a female.
The mating season typically starts in September, which is the start of Australia's spring, but due to the warm winter the country has had, snake wranglers report seeing snakes fighting over females a month early.
There has been an increase in sightings of snakes in recent months in Australia due to lockdown restrictions meaning people are at home a lot more combined with a warmer winter bringing snakes out of hibernation.
Raymond Hoser, who runs Snakebusters in Melbourne told the Australian Associated Press: "Because people are at home and they're not out and about... we've got a perfect storm where people will see more snakes.
"If you see a snake don't go near it. Nine times out of 10 if they're in your garden they're passing through. If you get bitten, bandage on your arm, straight to hospital. Without treatment, you're likely to die. With treatment, you probably won't die."