Watch Video: Colin Kaepernick Receives Muhammad Ali Award From Beyonce, Vows to Continue Protest Movement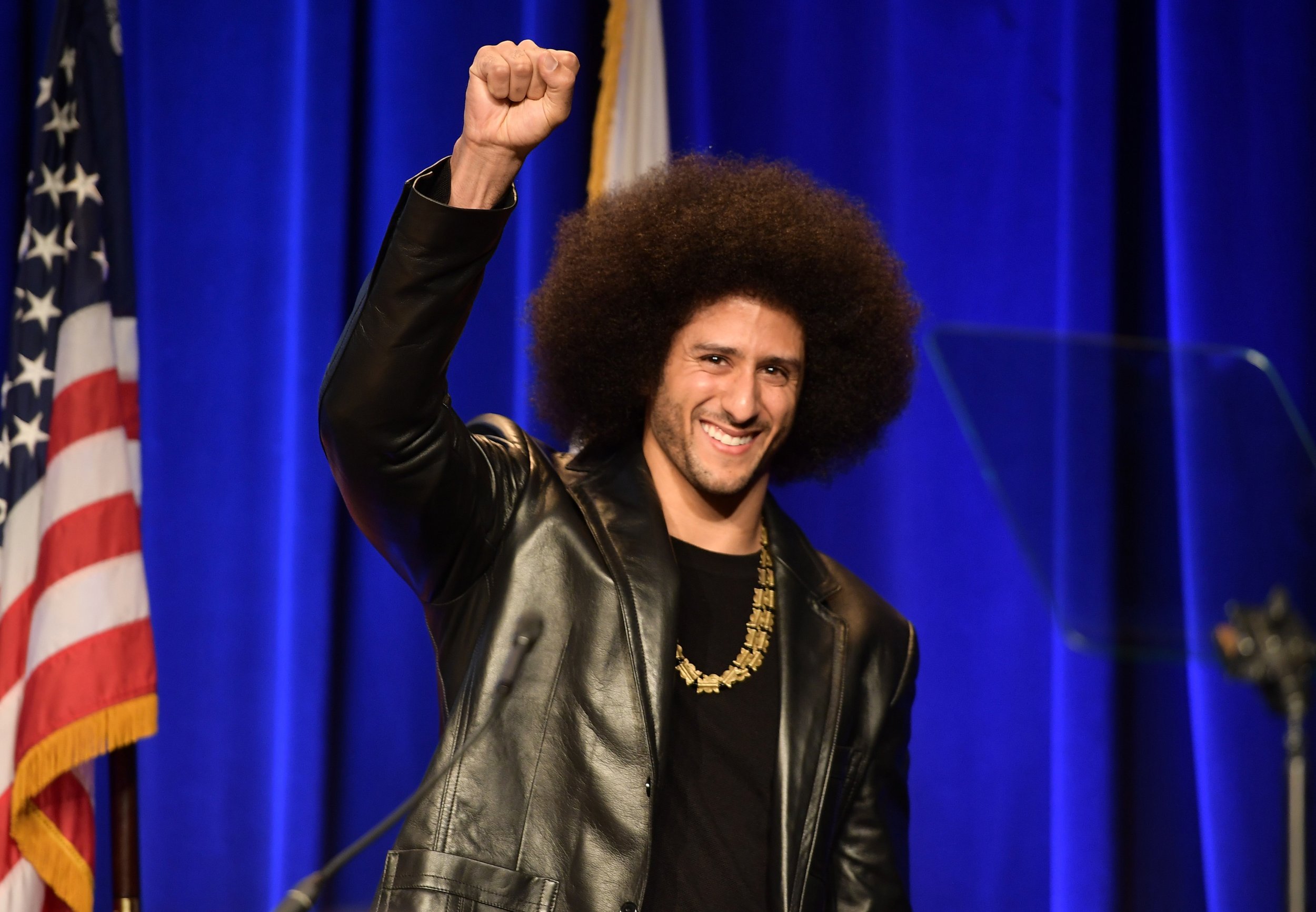 Colin Kaepernick received Sports Illustrated's Muhammad Ali Legacy Award from Beyonce on Tuesday night and vowed to continue his protest movement, "with or without the NFL's platform."
Kaepernick, who opted out of his San Francisco 49ers contract in the spring, began a wave of rebellion in the NFL and across the sports world by sitting, at first, during the National Anthem before the 49ers' preseason games in August 2016 in an attempt to bring attention to the perceived police mistreatment of black and minority ethnic communities in the United States. "I am not going to stand up to show pride in a flag for a country that oppresses black people and people of color," Kaepernick told NFL Media in August 2016.
The sitting turned into kneeling during the anthem around the start of September 2016, after Kaepernick met with Nate Boyer, a former Green Beret who was briefly a long snapper with the Green Bay Packers. Ironically, though, it may have been U.S. President Donald Trump who drew most attention to Kaepernick's movement by trying to vilify it.
As on-field protests intensified in the early fall, Trump told a rally in Alabama on September 23 that NFL team owners should react to kneeling players by saying, "Get that son of a bitch off the field right now, he's fired. He's fired!" NFL Commissioner Roger Goodell called Trump's comments "divisive," although Goodell has also said since that players should stand for the anthem. The NFL has proposed donating $100 million to, "Causes considered important to African-American communities," according to ESPN. The move has reportedly proved divisive among the league's players.
"Colin took action with no fear of consequence or repercussion, only hope to change the world for the better," Beyonce said on Tuesday night in quotes reported by ESPN. "To change perception, to change the way we treat each other, especially people of color." Kaepernick, who is on the shortlist for Time magazine's "Person of the Year" which will be revealed Wednesday, has not played in the NFL since leaving the 49ers. He is currently suing several team owners for alleged collusion, claiming they deliberately denied him another job in the league due to the controversy around him.
"The footprints he [Ali] leaves are large," Kaepernick said. "His life is and has been a multitextured tapestry that is rich in love, wisdom, life lessons and human kindness. I can only hope that I'm taking steps toward walking on the footsteps that he has left behind for the world to follow."
The full award show will air on NBC Sports Network on Friday.