Watch: Gunman Ambushes Police Officers with Assault Rifle
Police in Indiana released footage Tuesday of a man who they say ambushed them with an assault rifle and allegedly killed his neighbor.
The man, identified as Barry Freeman, 51, engaged police officers Friday with an AR-15 and a shotgun and fired dozens of rounds according to the Evansville, Indiana, police department. Freeman was eventually shot in the gun battle and later died in a hospital. Police were originally responding to a 911 call of a different person reporting gunfire, and Freeman began shooting at the police officers when they arrived.
The neighbor who police say was shot and killed by Freeman was 56-year-old Jeffrey Kempf. No officers were injured in the gun battle.
In a press conference Tuesday, Evansville Police Department Sergeant Jason Cullum said that Freeman wanted to attack police officers.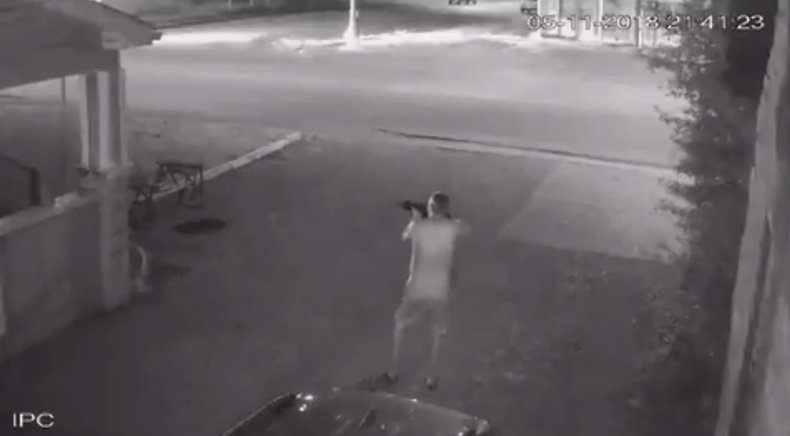 "When I say that he was targeting patrol cars, he was targeting patrol cars because he believed there were police officers inside of them. Somehow we managed to get through this without any officers being injured," said Cullum. "We were lucky."
Cullum said Freeman did not shoot at a number of civilians who passed through the scene and that it appeared he was "intentionally excluding them from his shooting rampage." Police think that Freeman killed Kempf with a shotgun in error, believing he was a police officer.
Cullum said that he didn't think police would be able to fully determine a motive and that Freeman had no prior incidents involving police other than a traffic citation.
Police say that Freeman's son indicated that he had prior military experience. Bullets from the fray struck at least four police vehicles and several nearby buildings.
The Evansville Police Department could not immediately be reached for comment.