Watch: Video Shows Catastrophic Damage, Flooding in Aftermath of Tornadoes
A tornado outbreak that hit Alabama, Louisiana and Mississippi cut electricity to tens of thousands of homes, injured at least two people, and damaged or destroyed dozens of homes.
Damages ranged from what's considered minor issues, such as holes in the roof, to full collapses. In Mississippi, photos and videos showed debris of a farm structure in a piled-up heap.
More than 20 reports of tornadoes were issued, although the National Weather Service will issue a final count after an investigation.
Northern Alabama saw as much as six inches of rain, and a woman had to be rescued from a tree after her car was consumed by floodwaters, according to the Associated Press. Schools also had to close because of the flooding.
The National Weather Service described a Chilton County, Alabama, tornado as "large and extremely dangerous." As of Wednesday evening, there were confirmed tornados in Dallas and Autauga counties as well.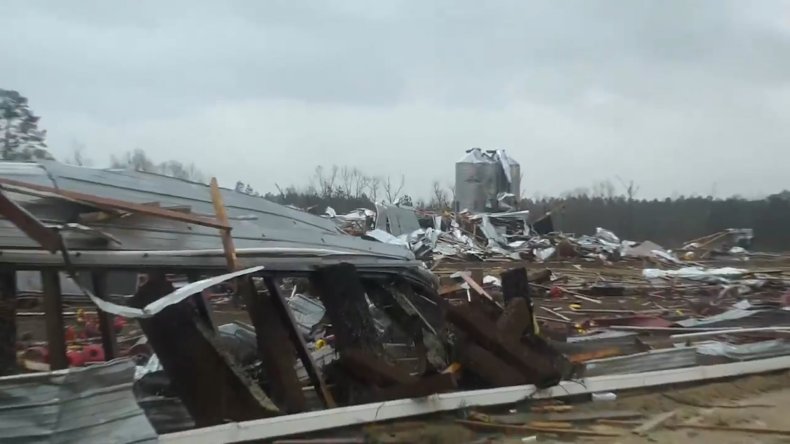 "While tree and structure damage seems fairly widespread, I have received no reports of fatalities. I pray that remains the case as the assessment gets going," Alabama Governor Kay Ivey said in a statement Thursday morning. "Overall, we have a lot to be grateful for, as it could have been much worse."
Mississippi had at least two confirmed tornados, according to the National Weather Service in Jackson, as wind speeds reached 100 miles per hour.
"I just jumped behind the recliner and just hung on," Mitch Hendry, who lives in Wayne County, Mississippi, told the Clarion-Ledger. "In 10 seconds, it was gone, but if it would have lasted a little longer, I probably wouldn't be here."
Large parts of Hendry's property were damaged in the storm, and he said it's possible a boat may have been picked up by the storm.
In Louisiana, Kermit Vixon has a wind meter on his house and told WVLA it clocked wind speeds at 80 miles per hour. The National Weather Service hasn't confirmed it was a tornado, but Vixon said when he saw the wind "twisting so greatly" he knew it was the "force of a tornado." Only a tree suffered damage, and Vixon said he was grateful they were able to "sustain this and move on."
As the storm moved eastward, the National Weather Service issued tornado warnings and watches on Thursday for parts of Florida, Georgia and South Carolina.