Watch the Viral Video of the Kids Who Put on a Cello Concert on Porch of Elderly Neighbor in Self-Isolation
A video of two young children performing a cello concert on the porch of an elderly woman self-isolating due to pandemic concerns went viral on Monday.
Helena Schlam, 78, had been in voluntary quarantine in her Clintonville, Ohio home over the concerns about the spread of COVID-19 coronavirus. The children, a girl and boy aged 6 and 9 respectively, had planned the concert for Schlam after their mother asked if they would like to help.
"I haven't been out of my house for five days, and I won't be out anytime soon," Schlam told The Columbus Dispatch. "This was a delightful break for all of us. I love all the kids and I love music. It was such a real gift."
Although Schlam is not ill, she and the children kept their distance during the performance, staying about 10 feet away from each other at all times on the large porch.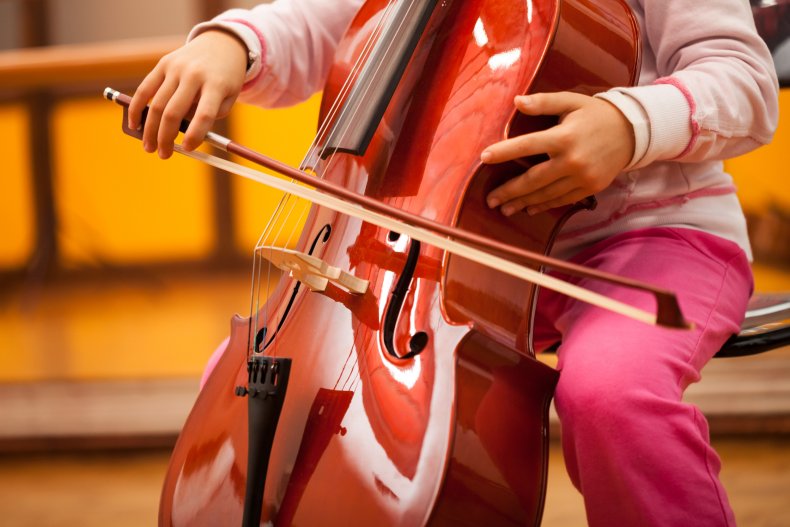 The concert was planned for noon so that Schlam's grandchildren in Israel could watch via FaceTime. Schlam typically visits with her Israeli family every spring during Passover but won't be able to this year due to the pandemic.
The video was posted to Twitter on Monday by journalist Jackie Borchardt, a neighbor of Schlam and the children. It quickly became popular, with original post gaining over 26,000 likes and close to 5,000 retweets within hours.
Newsweek reached out to Borchardt for comment but did not receive a response in time for publication.
Ohio reported 50 confirmed cases of COVID-19 as of Monday. Aggressive measures are being taken to combat the further spread of the virus, with Governor Mike DeWine making the state the first in the country to institute a shutdown of restaurants and bars on Sunday.
Schools in the state have also been closed. The children are learning from home, and one of their first lessons the day of the concert was about famous cellist Yo-Yo Ma.
Perhaps coincidentally, Ma also added to the cello entertainment relief effort Monday morning, sharing a video performance on Twitter dedicated to health workers on the front lines of the pandemic.
"This is for the healthcare workers on the frontlines — the Sarabande from Bach's Cello Suite No. 3. Your ability to balance human connection and scientific truth in service of us all gives me hope. #songsofcomfort," Ma tweeted.
The video was the second posted by Ma recently, which he said were "songs of comfort" intended to ease pandemic anxieties. The first video was posted Friday.
"In these days of anxiety, I wanted to find a way to continue to share some of the music that gives me comfort. The first of my #songsofcomfort: Dvořák – 'Going Home,'" tweeted Ma.
.