Watch: Vladimir Putin's Handshake Knocks Over Furniture in Meeting With Turkey's Erdogan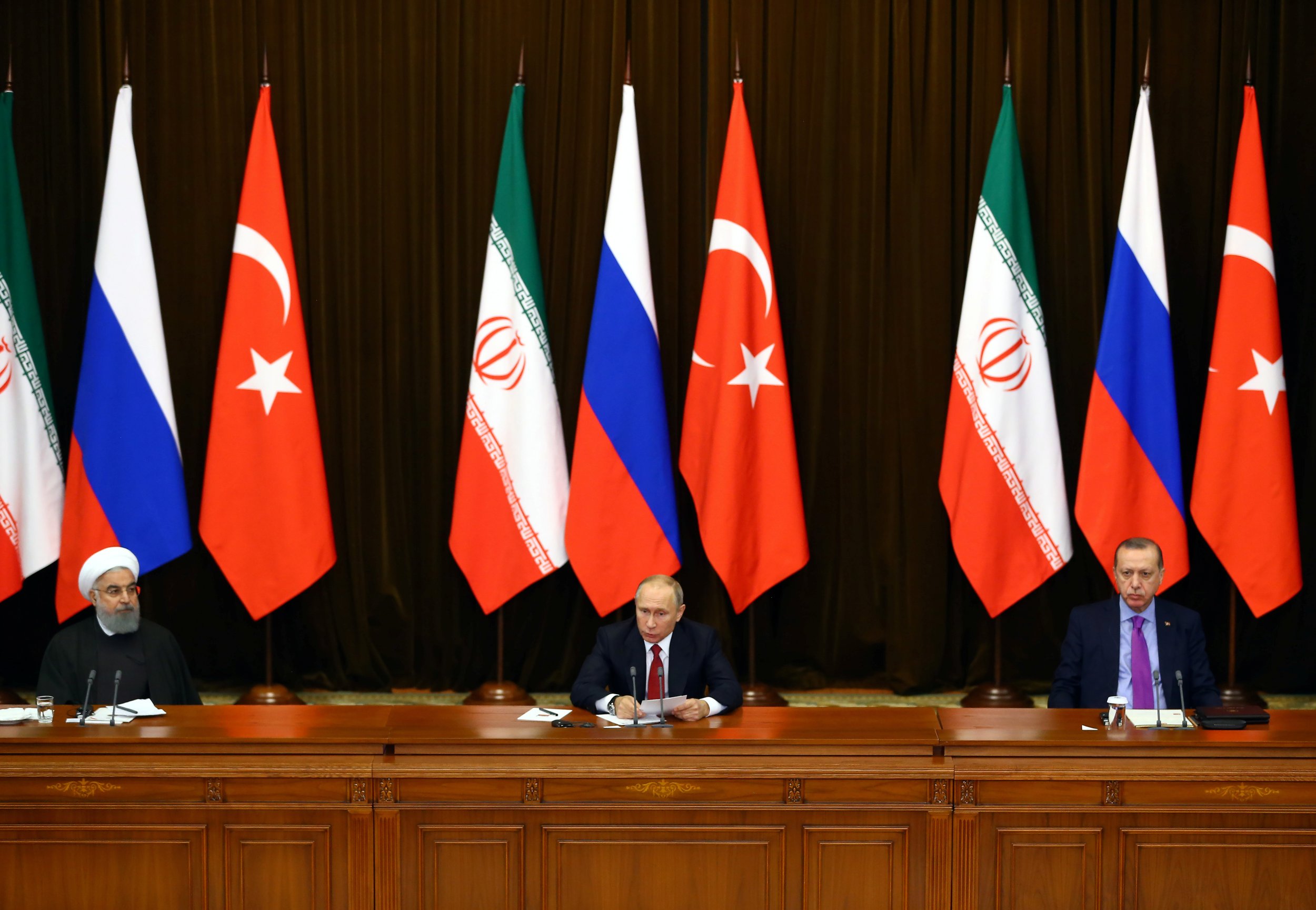 Russian President Vladimir Putin's handshakes generally don't create news, and they certainly don't generate the bad press that President Donald Trump's awkward greetings do. But this week, after he wrapped up a meeting with the leaders of Iran and Turkey in Sochi, the Russian leader stood up to shake hands with the sitting Turkish President Recep Tayyip Erdogan—and as he did so he sent Erdogan's chair crashing to the ground.
Seemingly oblivious to the sound the chair made as it hit the floor, Putin turned to Iranian President Hassan Rouhani, on the other side of the table, greeted him in front of the cameras, then left the room. Fascinated by the faux pas, social media users began arguing about the incident and the video, shot by Turkish broadcaster TRT, spread widely online in Russia.
Related: Putin says he will punish those who failed to arrange a meeting with Trump
The three leaders had gathered in Russia's Sochi to discuss their military interventions in Syria, where Iran and Russia have fiercely supported the regime of President Bashar al-Assad. Turkey, formally a U.S. ally, has joined this Russian-led discussion group, despite being a sharp critic of Assad and warring with Kurdish militants on Syrian soil.
Russian meme website Lentach joked that the act was Putin's vengeance for Turkey's downing of a Russian fighter jet in 2015, described as a "stab in the back" by Putin at the time. "This is how we win," the site declared. Though diplomatic relations were frosty after the plane incident, Putin and Erdogan have since made amends.
"A classic strategy by the Soviet Chekist," former deputy chairman of Russia's Central Bank Sergey Aleksashenko wrote on Twitter, referencing Putin's past in the security services. "Topple the chair from beneath your rival."
"Hero," another user joked. "We are proud of our president!" "Erdogan's chair could not withstand Putin," St. Petersburg's Fontanka newspaper declared.
The incident even brought back memories of Putin's last chair-related gaffe on camera, when he was the victim of an unreliable seat. During an official meeting on Ukraine in 2015, Belarusian President Alexander Lukashenko gripped the back of Putin's desired seat so firmly that the Russian leader repeatedly failed to move it into place and decided to remain standing, speaking with then–French President François Hollande instead.
It was not long before some users began too look at the latest controversy in a new light, denying Putin was to blame for the chair's toppling and calling into question the Turkish broadcaster's footage of the event. In fact, alternate footage broadcast in Russia from the right side of the room, as opposed to the center, shows Erdogan gripping the bottom of his chair, tipping it back, as he gets up.
"Watch this from another angle," another Russian user tweeted. "Erdogan pushed over his chair by himself."