Watch: Was Cam Newton Concussed During Panthers-Saints Playoff Game?
The Carolina Panthers' season ended on Sunday night with a 31-26 loss to the New Orleans Saints in the NFC wild-card game.
But the inquest into how the Panthers handled what looked like a head injury to Cam Newton is just beginning.
The NFL confirmed after the game at Mercedes-Benz Superdome that it was investigating the Panthers' treatment of Newton. The quarterback took a heavy hit to the head from Saints defensive tackle David Onyemata midway through the fourth quarter, with the game still in the balance.
Newton ran towards the sideline, before falling to his knees. He was taken to the medical tent for a concussion evaluation and replaced by backup Derek Anderson, but was cleared to return to the game.
"He [Newton] actually got poked in the eye," Panthers head coach Ron Rivera said in quotes reported by NFL.com. "They took him in there as a precautionary just to make sure, but when he was sitting on the ground, they were trying to wipe whatever when he got popped. So that's what that was."
But as NFL.com pointed out in the same article, changes implemented this season in the league's concussion protocol state a player who, "Stumbles and/or falls to the ground when trying to stand, unrelated to an orthopedic injury, should be sent directly to the locker room to undergo the standard locker room exam."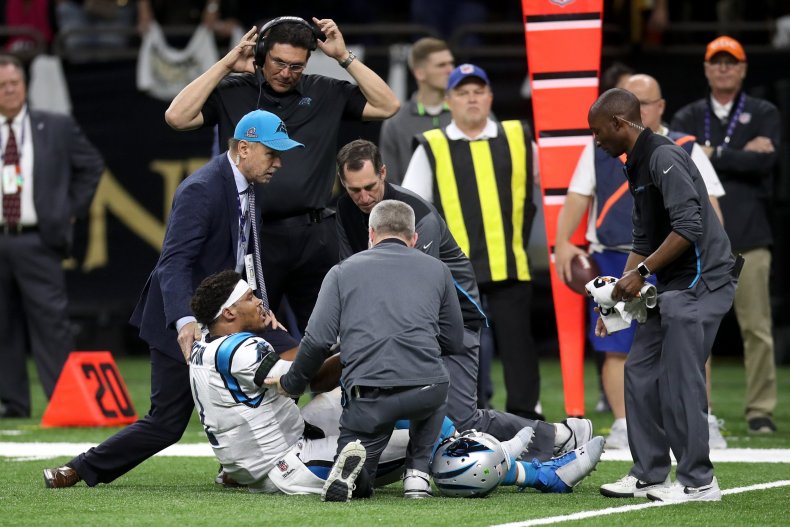 NFL Network journalist Ian Rapoport tweeted in the early hours of Monday morning that the league wanted more answers from the Panthers about Newton. "We are in contact now with the Panthers' medical staff and we will not comment further until those conversations are completed," a statement from the NFL tweeted by Rapoport read.
Rivera added that Newton went to ground to give Anderson time to warm up. "We wanted [Newton] to sit down to give [Anderson] a chance to warm up," Rivera said. "I mean, he was injured. Instead of trying to bravely walk off, we wanted him to take a knee to give our guy a couple of throws."
That reasoning didn't fly with a number of observers, including former WWE wrestler and Harvard defensive tackle Chris Nowinski. The founding C.E.O. of the Concussion Legacy Foundation tweeted, "This "Cam Newton's visor poked him in the eye" is the greatest storyline in the history of sports. And I'm saying that as a former WWE wrestler. Watch the video, you don't collapse after that him because you need ice on your face. It's a #concussion."