Video: 'What a D***!' Colbert Lambasts Donald Trump for exchange with CNN's Jim Acosta
Wednesday's 90-minute post-midterm press conference saw several heated discussions between President Donald Trump and journalists. One in particular stood out to late night talk show host Stephen Colbert.
Speaking on the The Late Show Wednesday night, Colbert responded to footage of a fraught exchange between the president and CNN's Chief White House Correspondent with the words: "What a dick."
The journalist in question was Jim Acosta, who Colbert called one of Trump's "favorite chew toys." Acosta questioned the president's recent political rhetoric surrounding immigration, asking the Trump about a campaign video many commentators have accused of racism.
The video featured convicted killer Luis Bracamontes, who immigrated from Mexico. Critics have said the advertisement was designed to stir up fear of immigrants. Channels including Fox News stopped airing the ad amongst the controversy.
"Do you think that you demonized immigrants in this election?" Acosta tried to ask the president. Before the reporter finished his question, Trump responded "No not at all. I want them...to come into the country. But they have to come in legally."
Acosta tried to follow up by questioning he president's use of the word "invasion" to describe a migrant caravan traveling towards the U.S., that is that is currently hundreds of miles from the border.
Trump did not answer the question, and instead said, "Honestly, I think you should let me run the country. You run CNN. And if you did it well, your ratings would be much better."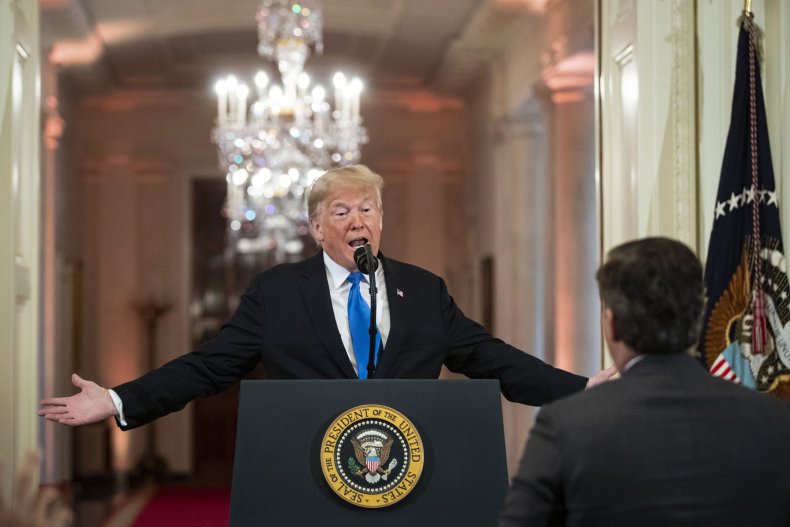 Acosta attempted to continue probing the President, who repeatedly said "That's enough," as a White House aide attempted to remove the microphone from Acosta's hands.
Since the presser, Acosta has seen his White House press pass suspended "until further notice." "I've just been denied entrance to the WH. Secret Service just informed me I cannot enter the WH grounds for my 8pm hit," Acosta tweeted.
Colbert also blasted a number of other exchanges between Trump and various journalists, including one who questioned whether the president's "nationalist rhetoric" was "emboldening white nationalists." Talking over the reporter, Trump responded, "I don't know why you would say that. That's such a racist question."
The president then claimed he currently had his highest poll numbers ever among African American voters, before repeatedly calling the question "racist."
The host then showed a clip of a reporter telling Trump "his actual poll numbers. "It's just eight percent sir," the reporter said. "Single digits."
"Actually technically it's gone down to seven percent since Kanye got out of politics," Colbert joked.