Watch White House Tuesday Coronavirus Briefing: Live Stream Trump's Latest Updates on COVID-19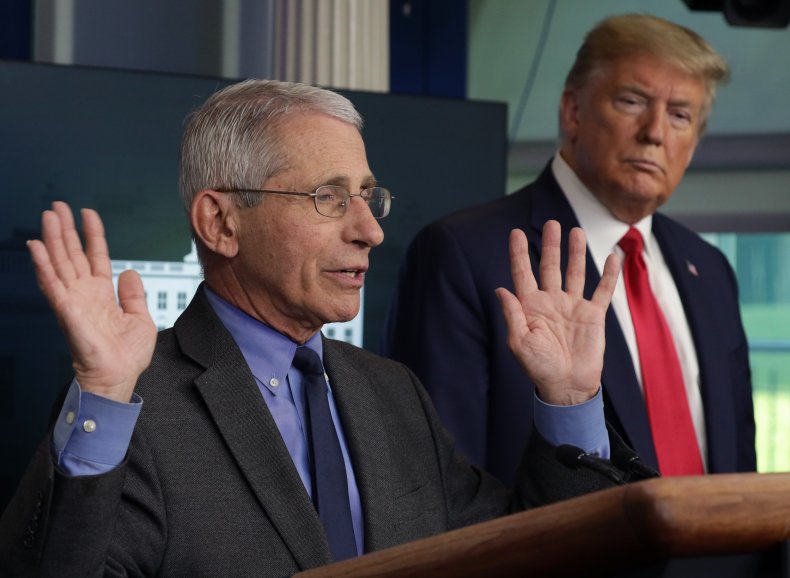 Members of the Coronavirus Task Force will be updating the nation on the latest developments regarding the COVID-19 pandemic.
The press briefing is scheduled for to take place at the Rose Garden at 5 p.m. EDT and can be live-streamed on the official White House website or C-SPAN. Fox News also airs the daily briefings in their entirety.
The United States has 582,594 confirmed cases of the novel coronavirus and 23,649 deaths, according to the Johns Hopkins Coronavirus Resource Center. There have also been 44,308 recoveries in the country. President Donald Trump said at Monday's briefing that the U.S. has performed nearly 3 million tests overall and are performing approximately 115,000 tests a day.
Dr. Anthony Fauci, the director for the National Institute of Allergy and Infectious Diseases, said Monday there are places in the country that are beginning to see a flattening of the curve as we move into a second week in which deaths are projected to continue to be high.
Fauci also clarified comments he made on CNN Sunday when he was asked by Jake Tapper on State of the Union whether the U.S. could have saved lives if mitigation guidelines were implemented earlier.
"It's very difficult to go back and say that. I mean, obviously, you could logically say that if you had a process that was ongoing and you started mitigation earlier, you could have saved lives. Obviously, no one is going to deny that. But what goes into those decisions is complicated.… Obviously, if we had, right from the very beginning, shut everything down, it may have been a little bit different. But there was a lot of pushback about shutting things down back then," Fauci said Sunday.
Fauci reiterated Monday that mitigation does work, but added that his comments were taken as if "maybe somehow something was at fault here," presumably between he and the president.
"The very first and only time that [Dr. Deborah Birx] and I went in and formally made a recommendation to the president…to really have strong mitigation, we discussed it. Obviously, there would be concern by some that in fact that might have some negative consequence. Nonetheless, the president listened to the recommendation," Fauci said.
He also stated that the president accepted the recommendations to extend the original 15-day guidelines through the end of April and to shut down travel from various countries to the U.S. earlier in the pandemic. When asked about his use of the term pushback, Fauci said it was a poor choice of words to describe the other points of view in those conversations to mitigate which happened "not necessarily in front of the president."
When asked by the press if he was offering these comments voluntarily, a visibly annoyed Fauci said, "Everything I do is voluntarily. Please, don't even imply that."